Rural WA Net Positive Farmhouse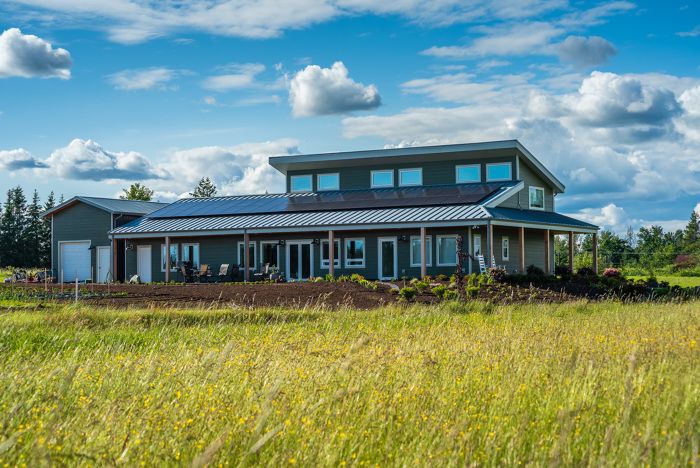 This is a 2550sf clerestory house and can be understood as a 1.5 story house. The second floor is half the size of the 1700sf 1st floor, and above the lower south roof are the clerestory windows, admitting plentiful daylight into the center of the building, lighting the 1st floor living spaces & connecting the owners to the sky outside. The long-span SIPs (structural insulated panels) roof panels open up vaulted ceilings in the main living spaces & master bedroom, lending a cost-effective opulence to the 1st floor master suite, designed with all facilities to enable graceful aging-in-place.
Three kids bedrooms are upstairs in the 850sf 2nd fl, with one bathroom and great mountain views towards Mt Baker, the local, active 10 000' PNW volcano. Downstairs, a cook's kitchen & an innovative client-designed corridor-panty yield ideal working space for the family cook. The isolated, heated, & daylit woodshop also ensures that this couple have their daily working spaces customized exactly to their needs. Further, the private & public parts of the home are intentionally separated by corridors to ensure that this home allows individuals to be secluded when they choose to do so. The local living conditions bring rain for 6 months a year, and the wrap-around porches allow a choice of sheltered outside spaces with a durable concrete deck underfoot. The concrete continues inside, and the slab-on-grade is ground concrete with the aggregate exposed.
This Scandinavian-modern aesthetic celebrates the wood & concrete structure by fine-finishing those materials to bring out the beauty & give cost-effective, durable & interesting finishes. The house sits at the north end of a 5 acre lot above heavily protected Category 3 wetlands. This project placed 20% of the lot into a conservation easement, ensuring the entire wetland & expanded buffers are conserved as native growth, in perpetuity. The stormwater from the roof is all routed back into the soil onsite. This house is a certified Net-zero energy (makes all the power it needs over a year) home by the Department of Energy and recently won the US Government 2020 Housing Innovation Award.
South elevation with 10.4Kw rooftop solar on the lower clerestory roof
Kitchen with structural glu-lams beams detailed & exposed
Vaulted clerestory living space
Scandinavian-modern aesthetic. Here at the 2nd fl clerestory corridor