Sponsored Post
Replacing Cedar Shingles With Modern Siding & Trim
Watch how the exterior of Fine Homebuilding House Connecticut transformed using Boral's line of TruExterior siding and trim.
Sponsored by TruExterior Siding and Trim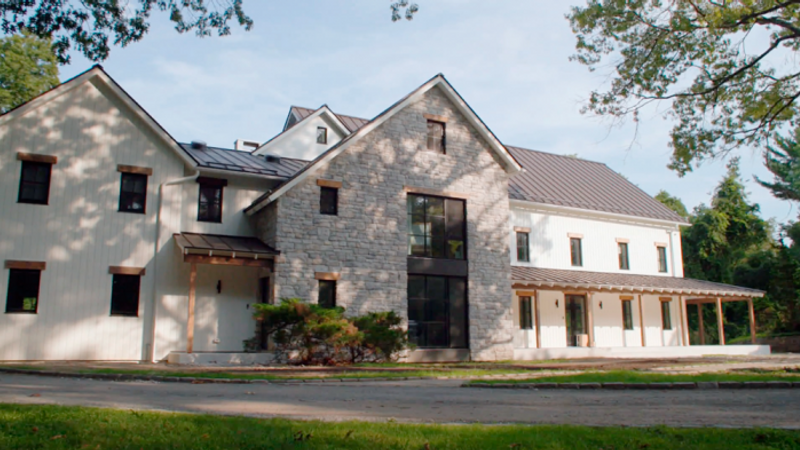 The Connecticut Fine Homebuilding House has seen a lot of changes over the last year, including an all new interior floor plan as well as upgraded mechanical systems to meet Passive House levels of performance. But the first thing you notice when you drive up to the house is the sleek new exterior. The house started out clad with cedar shingles–not exactly the modern look that the homeowners wanted for their remodel. So, it was out with the old and in with TruExterior Siding and Trim.
The team had their work cut out for them, stripping the old siding out of the way to add exterior insulation. Then they got to work installing the siding and trim. The TruExterior siding comes in a few different styles; two were used on the Connecticut FHB House. Nickel Gap/Shiplap Siding was used on a few places such as around the balcony door and under the porch ceiling. All the panels are reversible so they can be installed with either the smooth side or the wood-grain side exposed on this application. The team decided to use the smooth side facing out and butt the joints together.
The rest of the house is clad with TruExterior Channel Siding. It comes in 16-ft., pre-primed lengths with a 1-in. channel. The aesthetic of the house meant minimal trim, but the carpenters did need to use deep extension jams around windows and doors. So for that, they relied on TruExterior 1×12 trim boards to match the overall aesthetic of the rest of the house.
TruExterior is really unlike any other trim or siding material on the market, in part due to its composition. It's made from what the company calls poly-ash, which includes fly ash, a byproduct of coal combustion. The material cuts and handles just like wood, but it's more durable and more temperature stable than PVC, and it takes paint beautifully. Another advantage, unlike wood, is that you don't need to prime your cuts.
It's been really great to see this old house transform into a modern finished product.