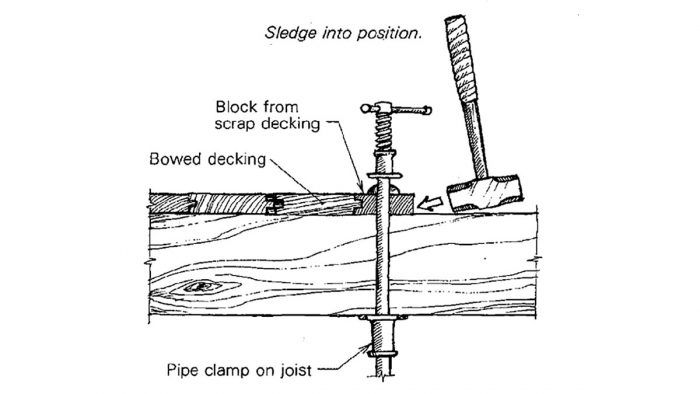 Here is a simple solution to the problem of getting tight joints when laying twisted or bowed tongue-and-groove decking.
First, pick some good straight pieces for your first course or two and nail them securely in place. Working with the tongue forward, start the groove of the next course onto the tongue of the last course. Anywhere the pieces don't slip together easily or a bow in the wood causes a space to occur, clamp a block (a short piece of scrap decking works well, minimizing damage to the tongue) to the joist in front of the troublesome piece with a short pipe clamp. Then hammer in on the block with a sledge hammer.
The tougher the bow, the harder you will have to clamp the block down and the harder you will have to hit it with the sledge, but the clamped block will hold the joint tight until it can be nailed. In this manner you can lay the most twisted pieces easily and tightly.
This trick was shown to me by Joe Caputo, an old-timer I work with building post-and-beam structures. We use it quite often to apply 2×8 V-match pine to 6×8 floor joists 3 ft. on center. We use the V-match as either a subfloor or the finish floor, and also as the finish ceiling for the room below. This technique works great on the timbers and equally well on stick-framed buildings. For fastest application try a toe-nail first, and if that won't pull in the decking, try the clamp method.
—David Barker, Gardiner, ME
Edited and illustrated by Charles Miller
From Fine Homebuilding #4