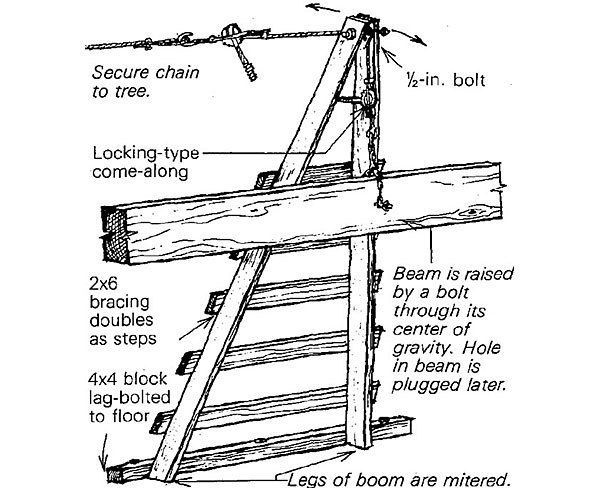 An old-timer showed me this device for lifting heavy timbers single-handedly. I have used it to raise 22-ft. long 4-in. by 16-in. laminated beams with surprising ease. The device requires two block and tackles or ratchet come-alongs with locking devices, a boom, various lengths of chain or cable, miscellaneous hardware, and a tree or equally substantial mooring.
Construct a boom as shown in the drawing. It should be long enough to be at roughly 60° to the floor when the beam is lifted to its finished height. Lag-bolt a heavy block (at least a 4×4) to the floor to prevent the bottom of the boom from moving and position the boom over the timber at its center point by adjusting the two comealongs. Drill a bolt hole at the balance point in the beam, attach it to the vertical come-along, and lift away. Control over the arc of the boom and the elevation of the beam is easily adjusted with the two come-alongs, allowing precise horizontal and vertical positioning.
After raising a beam to the desired height, I add a second chain wrapped around the top of the boom and attach it to the tree as a safety measure; it has proved to be unnecessary, but makes me feel more secure while the beam is aligned and pegged into place.
—Robert Von Drachek, Missoula, MT
Edited and illustrated by Charles Miller
From Fine Homebuilding #6