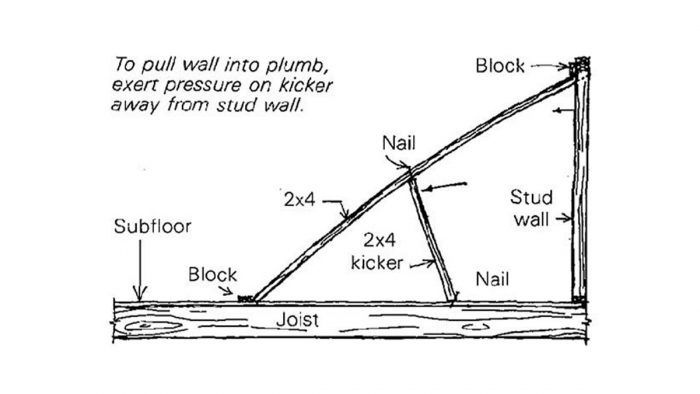 One common problem in framing is how to straight-line a second-story stud wall and brace it for joisting or rafters if it leans out. Here's one way you can pull the wall back into line and keep it there:
Lean a 2×4 (face up) against the stud wall with one end resting on the top plate and the other end on the subfloor at the location of a joist. Nail both ends securely. For extra security nail a 2×4 scrap block flat against the double plate at the top of the brace to prevent it from corning loose under pressure.
Next, toenail a 3-ft. to 4-ft. 2×4 to the floor along the same joist midway between the wall and the foot of the brace. You'll get the desired results by pushing this kicker against the brace and exerting whatever pressure is required to draw the wall into line. Secure by driving two nails through the brace into the end grain of the  kicker. These braces can be left in place until the rafters or joists are installed.
Marc Davis, Tucson, AZ