How-To
Building a Block Foundation
How to pour the footing and lay the concrete block, and what to do about waterproofing, drainage, and insulation.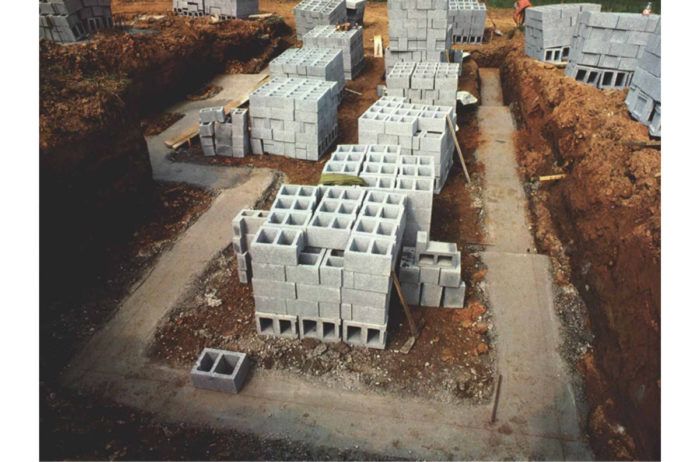 Synopsis: Concrete-block foundations are widely used in some parts of the country. This article, written by a mason, is a guide to building one. He covers all the essential details and includes a well-illustrated sidebar on how to get the right amount of mortar in the right place with a trowel.
Foundation walls are often the most neglected part of a structure. But they are actually the most structurally important element of a house. They support the weight of the building by distributing its entire load over a large area. Apart from structural requirements, foundations have to be waterproofed, insulated, and properly drained.
Although the depth of a foundation wall may vary according to the specific needs of the site or building, the footings must always be below the frost line. If they're not, the foundation will heave in cold weather as the frozen earth swells, and then settle in warm weather when the ground softens. This shifting can crack foundations, rack framing, and make for wavy floors and sagging roofs.
Concrete blocks are composed of portland cement, a fine aggregate, and water. They have been a popular choice for foundations because they're not too expensive, they go up in a straightforward way, and they're available everywhere. Block foundations provide adequate compressive strength and resistance to fire and moisture. They don't require formwork, and they're not expensive to maintain.
All standard blocks are 8 in. high and 16 in. long—including the usual 3/8-in.-thick mortar head and bed joints. But they come in different widths. The size given for a block always refers to its width. The size you need depends on the vertical loads and lateral stresses that the wall will have to withstand, but as a rule, most concrete-block foundations are built of 10-in. or 12-in. block.
Footings
After the foundation area has been laid out and excavated, the concrete footings are poured. Footings should be about twice as wide as the block wall they will support. A 12-in. concrete-block foundation wall, for example, should have a 24-in.-wide footing. The average depth for the footing, unless there is a special problem, is 8 in.
Concrete footings for homes or small structures need a compressive strength of 2500 pounds per square inch (psi). You can order a footing mix either by specifying a five-bag mix, which means that there are five bags of portland cement to each cubic yard, or by asking for a prescription mix—one that is ordered by giving a psi rating. Some architects and local building codes require you to state the prescription mix when you order. Either way, footing concrete is a little less expensive than regular finishing concrete, which usually contains at least six bags of portland cement to the cubic yard. The six-bag mix is richer and easier to trowel, but isn't needed for most footings.
For more photos and details, click the View PDF button below:
View PDF