Nested Post-to-Beam Joint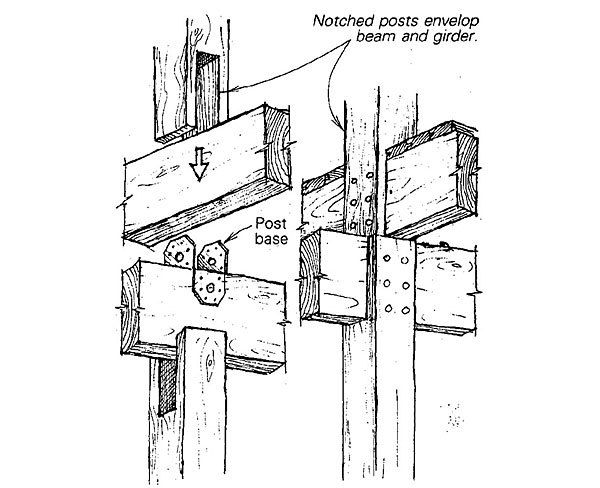 The wind can blow up to 100 miles an hour where we live on the Oregon coast, so it's mighty important for a roof to be tied firmly to its foundation. To hold ours down, I needed a tension tie between a post, a girder, a beam, and another post upstairs. There are lots of steel brackets that can make these connections, but I don't like looking at them. So I devised the joint shown here.
First I nailed a Simpson (www.strongtie.com) B6 post base to the top of my girder, and then I lowered it into a notch in a post sized 2 in. wider than the girder. The upper flanges of the post base tie the beam to the girder, and I notched the upstairs post to slip over the beam. This conceals the hardware and gives the appearance of a continuous post with beams passing through it. I used hardwood pegs to tie the beam and girder to the posts.
—Tom Bender, Nehalem, OR
Edited and illustrated by Charles Miller
From Fine Homebuilding #17