How-To
Roofing with Slate
Shingling with stone will give you a roof that lasts for generations.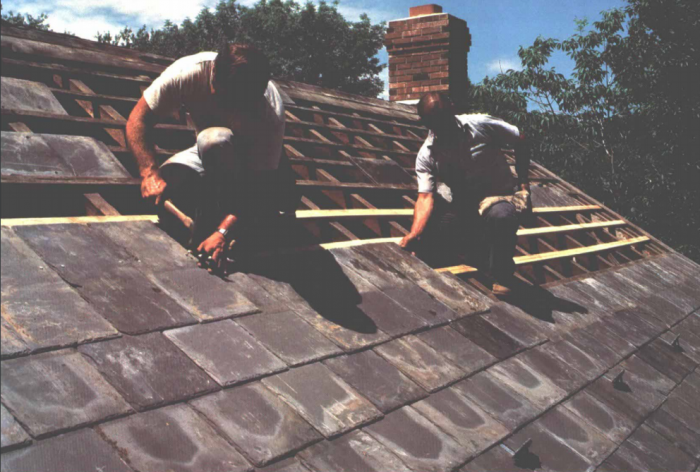 Synopsis: A Pennsylvania couple decide to have the slate roof replaced on their old farmhouse. Lots of detail here on choosing slate, preparing the framing, cutting and hole punching, and applying the slate to the roof, with detailed drawings and photos supporting the text. Includes a sidebar, "From Quarry to Roof."
When my wife Katie and I bought a farmhouse in northeastern Pennsylvania a few years ago, we weren't surprised that it had a slate roof. Built sometime before 1860, the house is close to several slate quarries. Here and in other parts of the Northeast, slate roofs are common on old houses.
After more than 120 years, the original slate on our roof was suffering from age and neglect. But it was one of the most attractive features of the house, so our plan from the outset was to repair or replace it. The roof didn't leak when we bought the house, although it had in the past. Previous owners had smeared tar in between the slates in several places, and some of the slates had been replaced with pieces of tin. Many slates were soft to the touch and crumbled readily.
Over time, even slate yields to the intrusion of water; and once this happens, freeze-thaw cycling causes it to delaminate along its cleavage planes. Cracks in the surface (called crazing), flaking (spalling) and chalky deposits around the edges and unexposed face of the slate are signs that slate has reached the end of its useful lifespan.
We could have patched the roof to make it last a few more years, but we decided instead to add a new roof to the list of improvements we had planned for the house. Our first inquiries into re-roofing with slate didn't bring very positive responses. Slate is prohibitively expensive, we were told; it's too hard to work with, and there aren't any good slate roofers around any more.
After some persistent investigating, though, we realized that what we'd been told wasn't entirely true. In my area, slate isn't much more expensive than other good roofing materials — particularly not in the long run. And we found a contractor, Jim Hilgert, who knows slate work backwards and forwards. Having seen how Hilgert's crew handled our roof, I'm convinced that roofing with slate isn't much harder than roofing with other shingles. It's in cutting, hole punching and handling that slate work differs. Though the job shown here is a re-roof, you would use the same tools and techniques to put on a new slate roof.
Selecting the material
Slate comes in a wide variety of colors, depending on where it is quarried. For our re-roofing job, Hilgert used #1 clear Pennsylvania blue-grey slate, salvaged from a barn in New Jersey that was about to be torn down. The pieces were 24 in. by 12 in. (with an exposure of 10 1/2 in.), the same size as our originals. The slate was in good condition and only about 20 years old — not yet middle-aged, as slate goes. Pennsylvania slate is reputed to last for at least 75 years. Slate quarried in Vermont and Virginia can last 150 years or more on a roof.
For more photos, drawings, and details, click the View PDF button below:
View PDF