How-To
The Flush-Fit Cabinet
Custom building with techniques well suited to the small shop.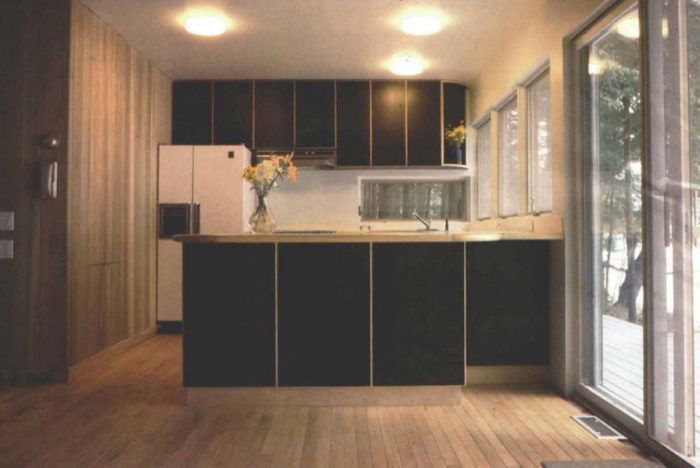 Synopsis: A general description of how the author builds frameless cabinets, a style that originated in Europe and slowly gained ground here. He calls them flush-fit cabinets, but they are the same animal and the author explains why they are a good bet for the small cabinetmaking shop that competes with much larger companies.
In some ways, technology seems to have left the small cabinetmaker behind. It can be rough for a little guy to compete with a cabinet fabricator equipped with sliding-table panel saws, two-part polyester sprays, high-temperature curing rooms and tilting spindle shapers with automatic feeds. With little space and scant funds to buy machinery, can a one-man show still make it?
I believe so. With a garage or basement to work in, a Sears Roebuck nearby, a little talent and a lot of hard work, the small cabinetmaking shop can steal away a very nice slice of the pie.
Custom cabinetwork requires so many different skills and turns up so many surprises that the modularity big businesses thrive on is not of much use. Larger woodworking concerns are of necessity more rigid and thus less responsive to the needs of the client. Making a cabinet 6 in. deeper becomes a six-month ordeal for the big guy, and changing the radius of a countertop's curve becomes an impossibility. The small cabinet shop, on the other hand, can rise to the occasion, and give the customer truly custom work.
Good hardware
Keeping up to date on hardware options is important if you want to attract custom jobs. I use Accuride (Santa Fe Springs, Calif.) full-extension ball-bearing slides on all my cabinet drawers. These slides work silently and smoothly, and they permit the drawer to open its full length. Every time your clients go into someone else's kitchen and open a drawer, they will be reminded of how conveniently and effortlessly their own custom-made cabinets work. Lasting impressions like this mean referrals, and referrals are bread, butter and gravy for the small cabinetmaker.
Hinges are another key hardware item. The European style flush-fit cabinets that I specialize in are to a great extent designed around high-quality concealed cup hinges. These hinges let you build cabinets that have no face frames. The hinges mount against the side of the cabinet's carcase and are let into the back of the door. The door is built to the full outside dimension of the cabinet front. The Grass hinges that I use (Grass America, Kernersville, N.C.) can be adjusted in all three dimensions after they're installed, and will open to nearly 180°. Fully opening cabinet doors are nice because they never act as barriers to people walking by or working in the kitchen.
For more photos, drawings, and details, click the View PDF button below:
View PDF