How-To
Light-Gauge Steel Framing
Inexpensive, stable and easy to install, steel is becoming popular for interior partitions.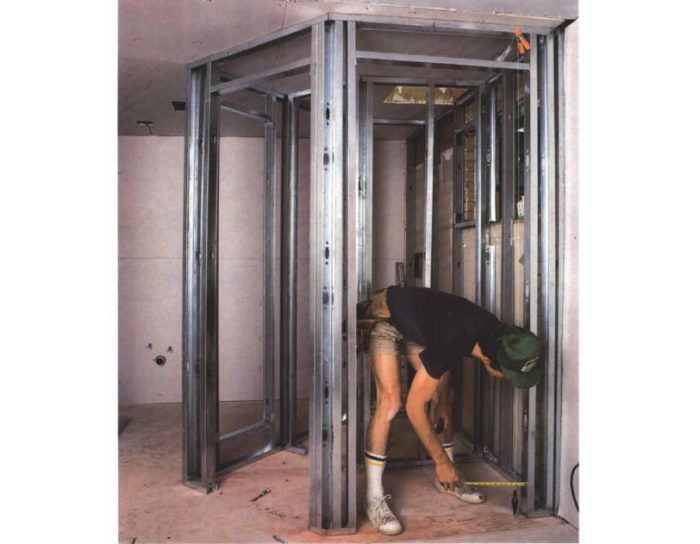 Synopsis: This article was written at a time when light-gauge steel framing was emerging as an alternative to dimensional lumber in residential construction. The author discusses how this material can be used to build interior partition walls. He offers a general discussion of framing and fasteners as well as technique for building some simple walls.
For over a century, wood has been the king of framing materials. But over the past two decades a quiet revolution has been brewing in framing technology. Increasingly, builders, remodelers and even do-it-yourselfers are turning to light-gauge steel for their interior framing needs. There are good reasons for the switch.
Though versatile, wood framing isn't perfect. Its biggest problem is that it burns, and over the past 20 years fire codes have become increasingly restrictive. New fire retardant wood framing products are available, but steel has had a pretty good head start in the markets where flammability is an important issue. Steel is king in commercial framing — building inspectors and insurance agents sleep easier knowing that buildings aren't as likely to catch fire as they used to be.
Some communities in the U.S. are so concerned about fire hazards that new single-family homes are required by code to have automatic sprinkler systems. Consequently builders are beginning to pay more attention to fire prevention. And as they discover the reduced fire hazard of steel framing, they are also finding that the material can be installed faster than wood framing, and that it often costs less. It is still rare to find a single-family home framed completely with steel, however.
Why steel?
Light-gauge steel framing was developed in the 1950s during the huge surge in post-war building. At about the same time, gypsum wallboard began to replace lath and plaster as the industry standard for wall finishes. Builders quickly realized that drywall applied to wood framing had its share of problems. Wood is a dynamic material — it shrinks, warps, checks and spits out nails as its moisture content changes. A truly professional drywall job requires careful attention to installation details. Consequently, the drywall industry developed framing components manufactured from steel. Steel is a static material. You can leave a pile of steel studs uncovered in your back yard for years at a time and they won't warp. Unlike wood, steel stays straight and true.
What about sound transmission? Some people think that metal-framed partitions will transmit more noise between rooms than wood-framed partitions will. Not so. The company I work for has done a lot of work for corporate clients and lawyers who are leery of sound transmission — they're not anxious to have secrets overheard in the adjoining offices. When we checked with acoustics experts, we learned that it isn't the studs in a wall that transmit sound; it's the spaces between the studs that cause the problem. Like a drum, the skins on both sides of the wall vibrate slightly, and the air-filled stud cavity between them transmits the sound. So when we want to build a quiet wall, whether of wood or metal studs, we just pack the stud cavities with fiberglass insulation. It fills the hollows and cuts the sound.
For more photos, drawings, and details, click the View PDF button below:
View PDF