How-To
Installing Glass Block
Privacy and light in the same package.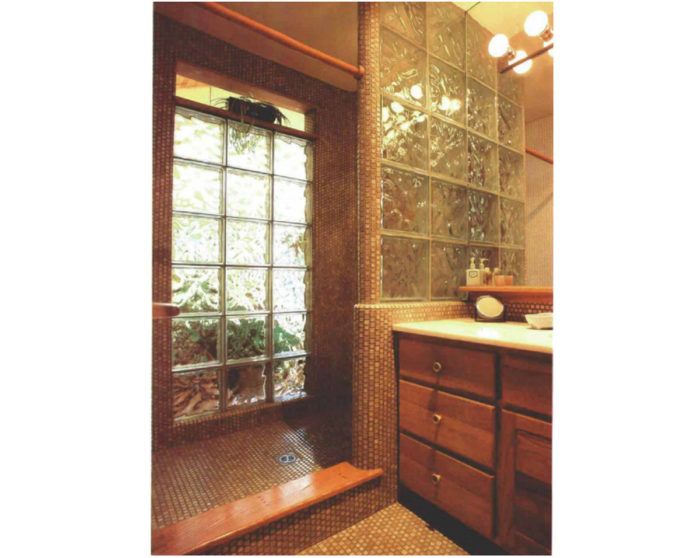 Synopsis: A veteran tile setter and teacher shares tips for building conventional glass-block walls with mortar. Newer materials are now available, but this is a good explanation of a traditional building technique. A list of suppliers is included.
As a tile setter, many of the jobs I've worked on over the years have included walls of glass block that were installed by others. Unlike bricks, masonry block, and stone, which have rough textures and seem to suck up mortar and stay put, glass block slips and slides during installation, and refuses to behave unless treated correctly. Fed up with hours of making my tile fit around the lousy glass-block work I found, I began to learn that trade myself about eight years ago.
My first attempts to build a glass-block panel (a panel is a "window" of block surrounded by wall) seemed awkward and confounding, and before long, I began to sympathize with those whose work I had criticized. But I've done a number of glass-block jobs since and am finally confident in my skills. What follows are some tips that will help you to avoid the painful learning process I went through.
Characteristics of glass blocks
Glass blocks were originally made by hand, but today's blocks are machine-made by pressing two molded halves of semi-molten glass together. The edges of the inner and outer faces create a flange that allows the block to key into the mortar joints, and allows space for metal reinforcing rods or wire. The raised bump formed at the point where the two halves are fused together is an additional mortar key. To reduce the slipperiness of glass when mortar is buttered on, the hidden edges of blocks are spray-coated with a plastic-like polyvinyl butyral coating while they are still hot from fusing.
The most common sizes of hollow glass block are 6×6, 8×8, and 12×12. Other sizes and shapes are available, including 4×8 and 6×8 rectangular blocks, and hexagonal corner blocks. Blocks manufactured in the U. S. are modular; that is, the nominal size includes an allowance for a mortar joint. The actual dimension of a modular block is less than the nominal size. Though you can find a few glass artisans who will provide custom-made solid glass block, there's only one company in the U. S. that manufactures glass block—Pittsburgh Corning Corporation. Imported glass blocks are available (see the list in the article), but direct technical information and assistance may be limited.
For more photos and details, click the View PDF button below:

View PDF