Design
Quiet Please
Strategies for toning down sound transmission in wood-framed floors and ceilings.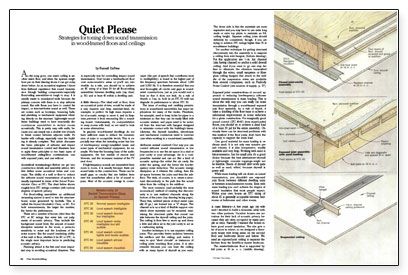 Synopsis: An acoustical engineer describes various methods for reducing the transmission of sound from one part of a house to another with special materials, such as resilient channel, and construction techniques. This is a technical but approachable treatment of the subject with plenty of practical tips.
As the song goes, one man's ceiling is another man's floor, and when the upstairs neighbors put on their dancing shoes it can get noisy down below. As an acoustical engineer, I know from firsthand experience that sound transmission through building components — especially floor/ceiling assemblies — is tough to stop. It is usually easier to soundproof walls because the primary concern with them is to stop airborne sound. But with floors you have to control the impact, or structure-borne sound as well. These are noises such as footsteps, bouncing balls, and plumbing or mechanical equipment vibrating directly on the structure. Lightweight wood-frame buildings need to have structurally discontinuous assemblies to isolate rooms acoustically. This is pretty easy with walls, because you can simply run a double row of studs to break contact between adjacent walls. It's harder with ceilings, especially once the building is already complete. This article discusses the basic principles of airborne and impact sound transmission control and illustrates how to apply these principles to two basic types of wood-framed ceiling/floor combinations: one with exposed joists, and one without.
Acoustical terminology
Before we get into construction details and assembly advice, let's first define some acoustical terms and concepts. The ability of a wall or floor to reduce the airborne sound transmission of speech is usually expressed in terms of the Sound Transmission Classor STC. The chart in this article shows roughly how STC ratings correlate with various degrees of speech privacy.
For floor/ceiling assemblies an additional measuring system is used to rate the structure-borne noise generated by footfalls. This is called the Impact Insulation Class,or IIC. For both measurements, the larger the number, the better the performance.
There are a number of factors other than the STC or IIC ratings that enter into our judgments of acoustic privacy. They include the background sound level, the amount of sound-absorptive material in the room, a person's sensitivity to noise and the loudness of the noise source. But the sound insulating ability of the wall or floor, whether it be IIC or STC, is the single most important factor in predicting acoustic privacy.
Planning ahead is the first and most important step in avoiding acoustical disasters. This is especially true for controlling impact sound transmission. Don't locate a hard-surfaced floor over noise-sensitive areas or you'll run into trouble. As a rule, you should try to achievean IIC rating of at least 50 for all floor/ceiling assemblies between dwelling units and at least 45 within a dwelling unit.
For more drawings and details, click the View PDF button below:
View PDF