How-To
Riding Out the Big One
A structural engineer explains what happens to a wood-frame building in an earthquake and how it can resist collapse.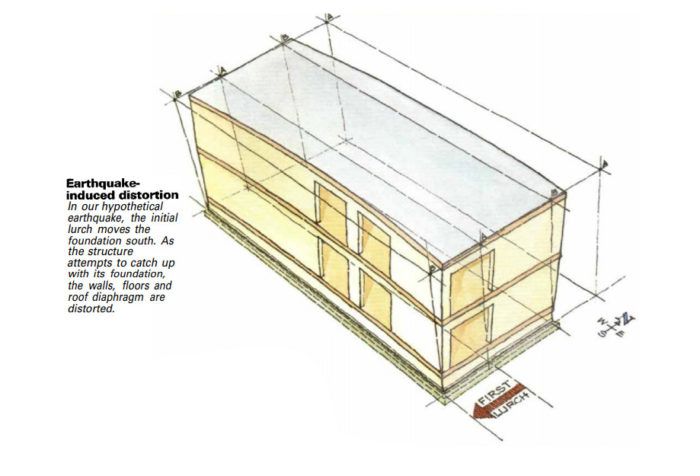 Synopsis: Earthquakes can quickly reduce wood-framed buildings to rubble. The author explains why, and then suggests ways of making buildings less susceptible to the problem.
The area affected by the Loma Prieta earthquake, which shook up much of the San Francisco Bay Area in October of 1989, included 1,544 California public schools. Only five of them suffered severe damage. No lives were lost, and there were no injuries in these buildings. Most of them were wood-frame construction very similar to that of a typical custom house, and they were either built from scratch or upgraded following the five sacred principles of earthquake-resistive construction.
There's nothing mysterious about these principles, and I'll discuss them all in this article. To understand them, you must first visualize clearly how a structure carries the loads imposed on it by an earthquake. To put the principles to use in the real world of construction, you might have to make a few simple but critical modifications to standard building practice. Also, you must pay close attention to details, and to get them done right, you'll probably have to be steadfastly persistent. This is a big topic, so in this article I'm going to talk mostly about new construction. In a subsequent piece we'll look at retrofitting existing houses to withstand earthquakes.
Some of what follows is subject to continuing debate among structural engineers, and I'll probably rub some of my colleagues the wrong way. But shall I tell you what I really think, or dose you with bland, safe consensus? I choose the former.
Sudden shock
In an earthquake, the ground moves violently and chaotically, up and down, side to side, twisting and rocking, with all these motions changing very quickly. Anything on the ground, such as a house, will tend to slide and overturn. Various parts will rattle around on their own and maybe come adrift. Things stacked one on another, like bricks on deteriorating mortar, will tend to slide and overturn independently, and framing members, like beams, may come right off their posts, or the posts off their footings. The connecting links — particularly tension and shear-carrying components — are put to the supreme test in an earthquake. If they are incorrectly designed or constructed, they will cause serious trouble. Thus the first principle: Tie it together.
Overlaps and straps
The platform frame holds together better in earthquakes than the balloon frame, in part because a platform frame is tied together by the overlap of the doubletop plates on the walls at every level. But they must be spliced correctly, with minimum 4-ft. overlaps. While the code requires at least two 16d common nails on each end of the splice, I think four 16d nails is a better minimum. If more are needed, the drawings should show them. As you add more nails, follow a nailing pattern like the one shown in the drawing to avoid splitting the wood.
For more photos, drawings, and details, click the View PDF button below:
View PDF