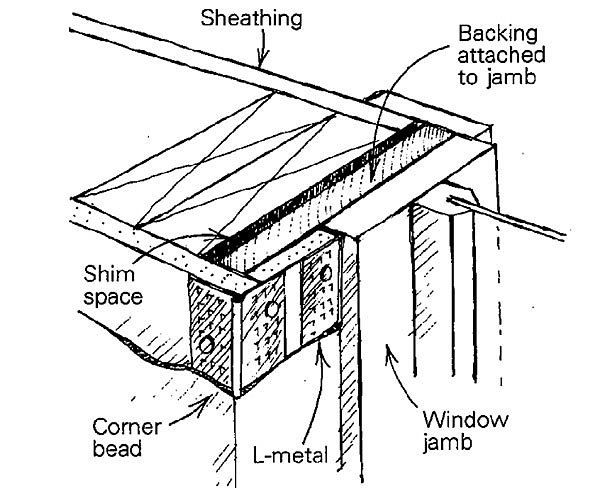 My partners and I use drywall returns similar to the ones that Dennis Darrah wrote about in his article Drywall Detailing. We found, however, that some of the savings that should accompany this budget-conscious detail were negated by the time spent affixing furring strips to the rough framing so the drywall would reveal evenly against the windows. To save time and get consistently good results, we developed the detail shown in the drawing.
First we rip inexpensive 1x pine to the depth of the framing members plus the exterior sheathing. Then we attach these backing strips to the rough side of the window jambs. To accommodate the increased dimensions of the windows, we make our rough openings 1-1/2 in. wider and 3/4 in. taller. After installing the windows, we shim the pine against the framing so that it is firm enough to receive drywall and corner bead.
Before we came up with this system, prepping  window openings for drywall was a dreaded task, and the reveals were never as good as we wanted them to be. Now it's a piece of cake and the results are beautiful.
Billy Guild, Hawley, MA
Edited and Illustrated by Charles Miller
From Fine Homebuilding #68