How-To
Glue-Laminated Timbers
Designing and building with engineered beams.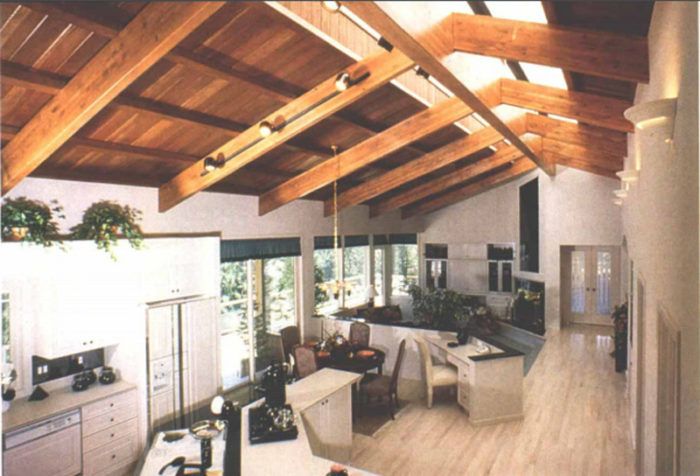 Synopsis: Glue-laminated beams are one kind of engineered structural member taking the place of traditional wood beams cut from a single log. The author discusses how they should be used correctly in residential construction, with details on connecting them to columns and other structural supports. A sidebar compares relative weights and costs of alternatives to glulams, including steel, laminated veneer lumber, and flitch beams.
Until recently, glue-laminated timbers, or glulams, were used chiefly for commercial and institutional structures. Most people know them as the exposed framework of shopping centers and churches. Home builders generally used steel for long spans and sawn timbers for exposed frames.
But times are changing. Open floor plans remain popular with homeowners, as do exposed beams with long, clear spans. Sawn beams that fit the bill are usually milled from large, old-growth trees, which are becoming scarce and expensive. As a result, more builders are turning to engineered-wood products, including glulams. In residential construction, glulams can serve as strong and attractive exposed structural members with long, clear spans. Their uses include arches, headers, girders, ridge beams, joists and rafters. Not surprisingly, glulam sales are expected to double over the next ten years.
Longer, wider, deeper
Glulams are made in a wide range of sizes, stiffnesses and strengths by face-laminating dimension lumber with structural adhesives. The lamination process yields beams that are longer, wider and deeper than sawn beams, so a glulam uses wood more efficiently than a sawn beam. The wood in a glulam is harvested from second- and third-generation trees, taking some of the pressure off old-growth forests.
The laminations in a glulam beam consist of 6-ft. to 20-ft. lengths of 2x dimension lumber (1x for tightly radiused arches), kiln-dried to an average 12% moisture content. The lumber is end-joined with structural finger joints and a waterproof, synthetic-resin adhesive (melamine, phenol, resorcinol, or phenol-resorcinol-formaldehyde). In the U. S., most glulams are made from Southern yellow pine or Douglas fir, although redwood, Alaska yellow cedar and Western red cedar are also used. In theory, there's no limit to a glulam's size, but like most building materials, they're shipped by truck and rail. This limits lengths to 100 ft. or so (oversized trailers are used to ship glulams longer than 60 ft. over the road).
Almost all glulams are horizontally laminated. Adhesive is spread on one wide face of each lamination; the laminations are then placed in a clamping jig. The adhesive cures at room temperature and develops sufficient strength so that clamps can be removed in 6 hours to 24 hours. The glulam is then set aside for a brief conditioning period during which the adhesive develops full strength.
After conditioning, the glulam is surface-planed and crosscut to length as needed. Tapered glulams and arches are machined to their final shape. Edges are eased, and splits, knots and other surface imperfections are plugged and smoothed to meet appearance-grade requirements. Some manufacturers may bore connector holes and apply end sealers, primers, or surface finishes. Some also supply fasteners, hangers and engineering assistance upon request. Before shipping, glulams are wrapped in kraft paper or a housewrap-rype material that keeps the beam dry, yet lets it breathe. The wrapping also prevents surface marring during storage, transport and erection.
For more photos and information on glue-laminated timbers, click the View PDF button below. 
View PDF