How-To
Simple Joinery for Custom Windows
Time-saving lap joints can save money, too.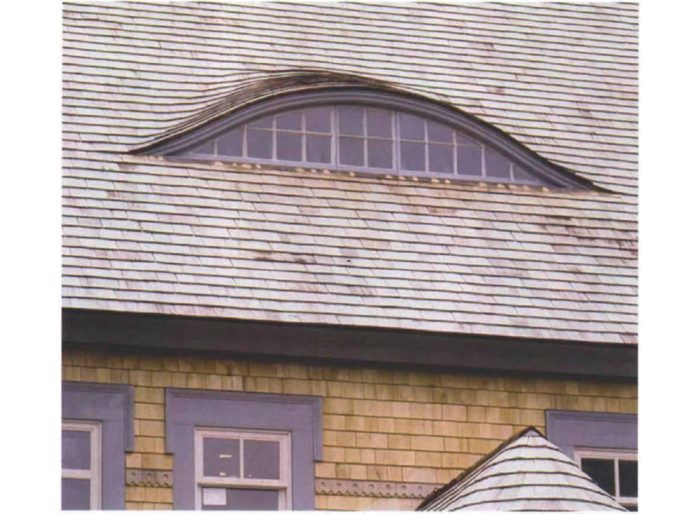 Synopsis: In this article, the author explains how he used lap joints instead of customary and more time-consuming cope-and-stick joinery to make a handsome eyebrow window. Jambs are laminations. A sidebar lists manufacturers of windows that can be used as eyebrows.
Few builders enjoy midstream design changes, but most of us have learned to deal with them. There are times, though, when a small change can cause a big problem. An example of this came while we were building a large home outside of Boston, Massachusetts. The roofer had finished about half of the red cedar shingle roof when the architects literally threw us a curve: The client had decided to dress up the front facade with an eyebrow window installed high above the main entry.
This design change created two problems. First, our window supplier wanted too much money (about $3,000) to custom-build the unit; second, they couldn't deliver it for three months. We didn't want to frame the dormer without the window — the fits would be too exacting and mistakes too expensive to fix — so we decided to build the eyebrow ourselves.
After studying the architects' rough elevations, I told job supervisor that we could build the unit for about half the quoted price — if the client would accept some unconventional and slightly archaic construction details (we actually did it for about one-quarter of the original quote). And we could have the window ready to install in 10 days. The architects and the client, pleased that we'd found an affordable alternative, quickly gave us the go-ahead.
Looking out from an empty attic, the unit would feature a four-lite hopper (a bottom-hinged window that opens inward). On either side would be two fixed sashes, and the entire assembly would be surmounted by a curved top jamb screwed to a sill beveled to improve drainage. A curved casing applied to the top jamb would serve as a crown molding over which the roof shingles would extend. The operable window was overkill; the owners previously had lived in old houses with hot attics, so they wanted to have plenty of ventilation up there this time. As it turned out, the hopper is rarely opened.
My plan was to build the individual window sashes first, screw them to the sill and then laminate the jamb around them. I could then apply the window stop and casing and haul the unglazed unit to the roof to be framed into place. After the roof was finished, someone would have to go back up and glaze the sash.
Simplified joinery
To save time, we decided to use old-fashioned glazing compound instead of curved wooden stops to hold the glass in place. The window would be 35 ft. off the ground, so nobody would notice the substitution. And rather than using standard cope-andstick joinery, I designed the sashes to incorporate lap joints.
For more photos, drawings, and details, click the View PDF button below:
View PDF