Design
Porches That Won't Rot
For a long, healthy life, these structures need a breath of fresh air.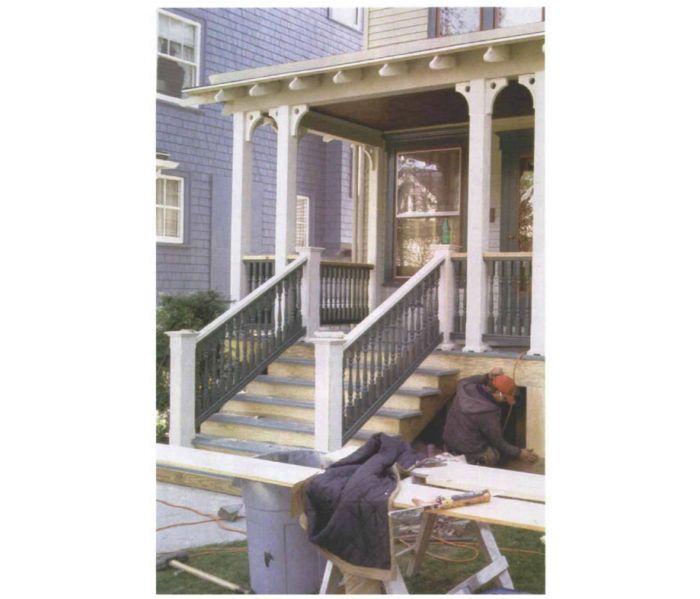 Synopsis: Porches are subjected to harsh weather and, as a result, often show signs of water damage long before homeowners would like. This article describes the author's methods for detailing porch floors, railings, columns, and carrying beams to minimize rot.
Even as a boy, I'd happily go out of my way to look at a good porch. I'd ride my bike down the streets of old neighborhoods in Buffalo, New York, and imagine myself living in houses that I passed. My favorites were the houses with distinctive front porches. Massive and ornate, or simple and elegant, the porch made the house.
I'm not surprised that I now work as a carpenter for a company specializing in building and restoring Victorian front porches. During the summer we spend more than half our time either building new porches or fixing old ones.
Because these open-air structures add so much to a house, I'd like the ones I build to last forever. That isn't literally possible. But we have developed a system for wood-porch construction that makes great strides toward that end. As we worked on older porches, it became obvious that what hurt them most was trapped moisture and lack of air circulation. That's what destroys columns, floors and framing. Some builders of an earlier era avoided these problems by using hollow posts and beams and by finding other ways to circulate air through the structure. We combine some of these time-honored techniques with a few of our own, and we add the protection that modern paints and sealants can offer. Our oldest projects, going back 11 years, still show no sign of decay, so we think we're on the right track.
Failure in the usual places
We recently rebuilt a porch for Robert and Denise Sheig in Buffalo. Their house is a beautiful turn-of-the-century Victorian that sits on a treelined street in the city's Delaware Park district. Parts of the original porch have held up for nearly 100 years; parts that failed were typical trouble spots. The wooden stairs and railings had long since deteriorated and had been replaced in the 1940s by concrete stairs and iron railings. The flooring below the columns, and the bottoms of the columns themselves, had rotted, as well as the spindle ends in the porch railing. The porch skirting had decayed where it pressed against the ground. And the porch beam and the exposed rafter tails had decayed where either the roof or the gutter built into the roof (called a Yankee gutter) had leaked.
For more photos, drawings, and details, click the View PDF button below:
View PDF