Wiping Paintbrushes
See how this one reader uses a stiff wire to help eliminate excess paint on a paintbush without making a mess.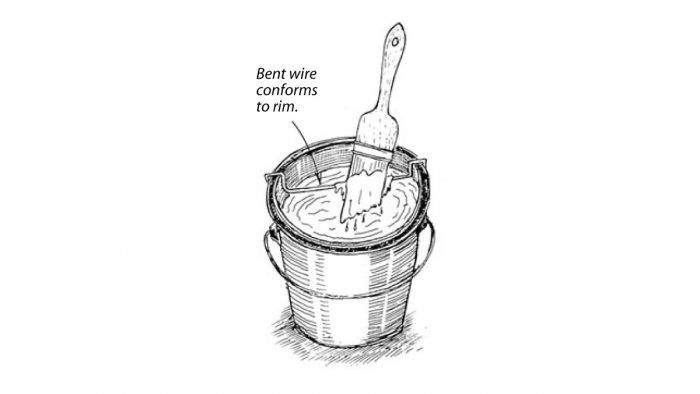 Painters often take the excess paint off their brushes by wiping the sides of the bristles on the inside lip of the can. Eventually the channel around the rim fills up, and paint runs down the outside of the can. Some painters avoid this problem by poking holes in the bottom of the channel with a 16d nail, the theory being that the paint will drip back into the can before filling the channel to overflowing. My solution to this problem avoids the rim altogether.
As shown in the drawing, I bend a stiff piece of wire (like a coat hanger) into a crossbar that spans the can. The wire hangs on the rim of the can a little off center to make the paint easy to reach with my brush. I wipe the excess paint on the wire, and the paint simply drips back into the can without touching the rim. The crossbar is easily removed for cleaning and reuse. If I'm using a paper or plastic container, I poke holes in the sides near the top and run a straight wire through them.
Michael R. Hogan, St. Croix, None
Edited and Illustrated by Charles Miller
From Fine Homebuilding #82