Tools & Materials
Making and Using Water Levels
Low cost and low tech, these highly versatile tools can't go out of whack.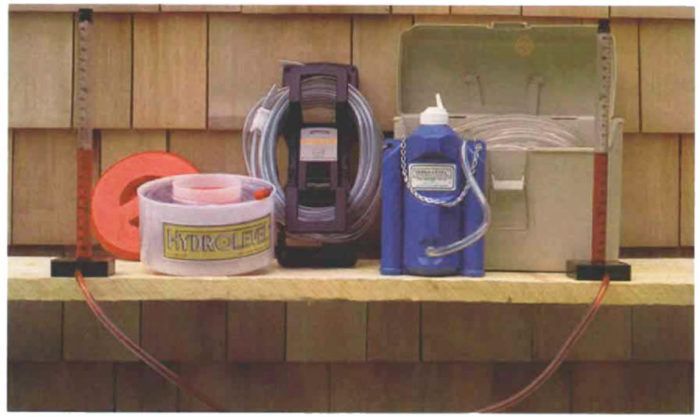 Synopsis: Water always seeks its own level, the principle behind the disarmingly simple water level. This short article explains how to make and use one, and includes a list of manufactured devices.
Everyone in the building trades knows the importance of achieving level in their work, but rare is the builder who can define level without retreating to the dictionary. There, in short, you will find that level is a line that coincides with a surface of still water. This explains why a simple, homemade water level can be so doggone accurate; it is the embodiment of levelness. I routinely use a water level to determine grade elevations, level footings and other formwork, level floors and ceilings in old buildings, hang cabinets, build decks and install suspended ceilings. A water level's applications are limited only by your imagination.
A water level is nothing more than a length of clear vinyl tubing, or hose, that is filled with water. The reason why water levels are so accurate is because they operate on the infallible natural law that a body of water seeks its own level. What this means is that the surface (or surfaces) of a volume of water will always be perfectly level: the water in a bowl; the surface of a pond; the two surfaces of water in a piece of plastic hose.
If you hold the two open ends of the water-filled hose upright and side by side, you'll notice the water in each end bob up and down and eventually settle to exactly the same level. And no matter how far apart the two open ends are taken, the level of water will remain the same. If, perchance, the two sides don't level out exactly, then something is interfering with the free flow of water. The problem usually can be traced to a kinked hose, trapped air bubbles or the fact that one or both of the hose's ends are obstructed.
Besides its incredible accuracy, another attraction of a water level is cost; the thing is cheap to make, costing about as much as a good 25-ft. tape. In this article I will show you how to make and use your own water level, and I'm willing to bet by the time you finish reading, you'll be convinced, as I am, that these tools are as versatile as a hammer and as reliable as a plumb bob.
More accurate than a builder's level
I will admit, for leveling lengths up to 8 ft., it's usually more convenient to use a spirit level, either by itself or in conjunction with a good straightedge. And for leveling very long distances (i. e., over 100 ft.), the water level will do the job effectively, but it could be cumbersome and impractical, so an optical builder's level mounted on a tripod may be better suited to the task. (A builder's level is similar to a transit but cannot be pivoted vertically.) However, unless you're a surveyor or a large-scale building contractor, a 100-ft. range will take care of most leveling needs.
For more photos and details, click the View PDF button below:
View PDF