How-To
Wall Bracing
Wood, metal and plywood can all be used to keep walls from racking.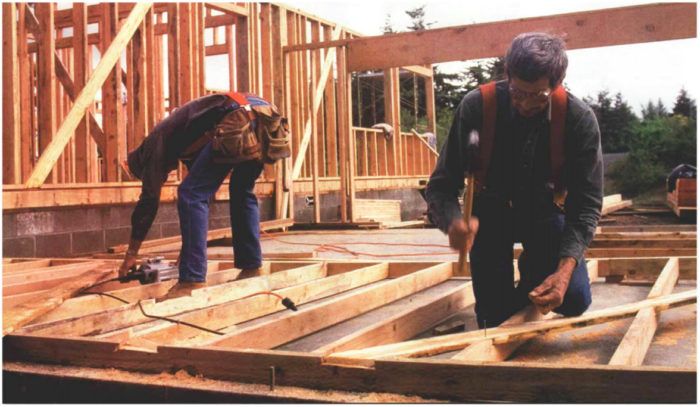 Synopsis: This framing lesson from Larry Haun deals with reinforcing rough-framed walls with bracing so they won't rack out of square. He shows how let-in bracing, plywood, and metal hardware all can be put to use. A sidebar discusses the use of shear walls in areas prone to earthquakes.
I was born and raised in rural Nebraska, where the one constant is the wind. Many of the farm buildings I remember from my childhood leaned to one side. I was fascinated by these buildings. I used to think that was the way people built them. It took a while to figure out that those buildings leaned because the wind was always pushing on their poorly braced walls.
The first house I helped build was in 1947, back in the handsaw days. For wall bracing we mitered the ends of 2×4 blocks, then we nailed the blocks between studs along a diagonal line — good braces to prevent racking but time-consuming to build.
I now live and work on the West Coast, where houses must be built to withstand not only the wind but also earthquakes. I've braced many a wall, and here I'll talk about the best ways I've found to keep walls plumb and true through gusts and tremors.
Let-in bracing
Once platform framing became popular, carpenters learned to brace walls by mortising, or letting in, a diagonal 1×4 or 1×6 into the plates and the studs of a wall. Many building codes call for this type of bracing in almost every wall that has room for it. Braces are required at each end of a long wall, with an additional brace for every 25 ft. of wall space. The codes don't say how long the braces should be; they just say you must have them. Each brace must oppose the other — one slanting one way, the next slanting the opposite way — to guarantee that one member will always be in compression (the force that pushes together or crushes). Let-in wood bracing works best in compression.
I like to use let-in bracing even if the wall will later be sheathed with plywood (another form of bracing). It takes me only two or three minutes to install a brace, and let-in bracing holds the building plumb until the sheathing goes on. Other carpenters sheathe their walls before raising them or hold walls plumb with temporary 2×4 braces after they're up. But sheathing the walls first means squaring them up perfectly on the deck — a tedious job — and when temporary braces get in the way, workers tend to remove them: there go the plumbed and squared walls.
When shear forces go beyond the ordinary, a structural engineer can calculate how to brace a wall to keep it from racking and uplifting. Often, it's a matter of combining panels and seismic anchors. But where high winds or major earthquakes are uncommon, 1xs are adequate for bracing. For the inexperienced, installing 1x let-in bracing can be dangerous, so the procedure needs to be studied well and executed carefully to avoid injury.
For more photos, drawings, and details, click the View PDF button below:
View PDF