How-To
Tearing Off Old Roofing
The best reroofing jobs start with a clean roof deck.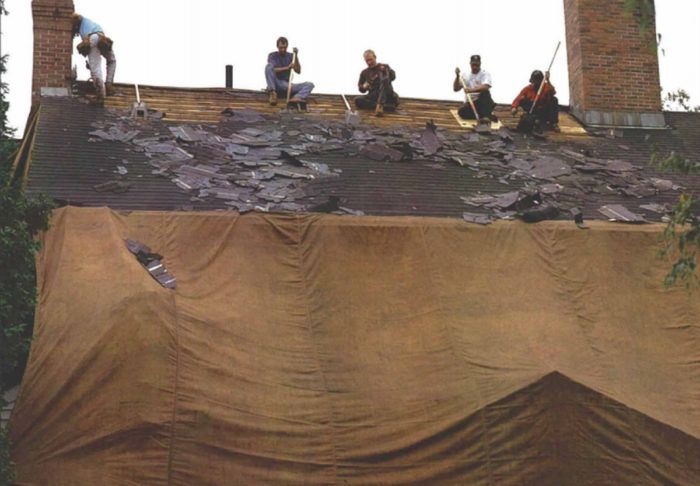 Synopsis: This article describes the prep work that comes in advance of applying new roof shingles. The author explains techniques he uses to remove old asphalt shingles and introduces a few specialty tools that make the job easier.
Twin brothers Richard and Russell Wright have reroofed hundreds of Boston-area houses since they went into business together 25 years ago. I've been up on the scaffolding with them on quite a few. I usually do the specialty carpentry-gutters, fascia, skylights, sheathing repairs — but when it's time to tear off an old roof, everybody pitches in.
Tearing off a roof is a messy, nasty job. You've got to take steps to protect the house, the grounds and yourself. Here I'll explain how to determine whether a house needs a new roof and what to do if it does.
Inspecting the roof
When checking out a leaky roof, I first look for structural damage to the roof itself. I do it from inside the attic. I look for signs of continuous moisture, such as water stains, patches of dry rot or black fungus. And I probe for rot. With an awl, I poke the underside of the sheathing and the top edges of the rafters. Softness indicates water damage. If the interior damage is limited to one spot, this spot may be the source of a leak, and depending on the condition of the shingles, I might simply choose to patch the leak.
If the rafters are sagging, they were probably undersized when the house was built. I jack up sagging rafters and sister on new rafters. This is done before tearing off the roofing; otherwise, jacking up the rafters could spring loose the newly installed roofing or even the sheathing.
Sagging between rafters indicates a problem with the sheathing: It may be rotted or cracked; it may be undersized; it may have been run across too few rafters to provide strength; or it may not have been staggered across the rafters properly. A second layer of sheathing often will correct this problem.
Extensive fascia and soffit damage indicates that either the drip edge is bad, or the rafter tails have rotted. I pull off a section of damaged fascia to check out the rafters. Although I sometimes remove the sheathing to replace rotted rafters, often I can repair rafter tails without removing the roofing. If the rafters are OK, a defective drip edge is probably causing the water damage, and a new drip edge will have to be installed with the new shingles.
If there's any sign of carpenter ants, I tear off some sheathing, determine the extent of the infestation and get rid of it. The best way to do away with carpenter ants is to remove all wet wood, whether it's infested or not.
For more photos and details, click the View PDF button below:
View PDF