How-To
When Block Foundations Go Bad
Steel bracing and improved drainage give new life to cracked and wet walls.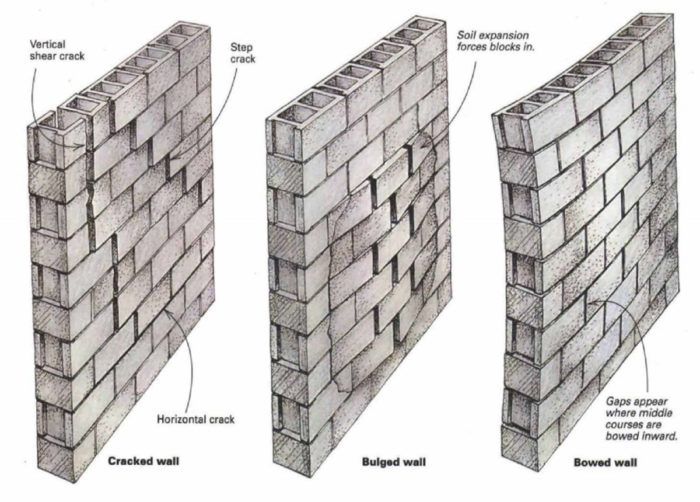 Synopsis: Concrete block foundations, popular in many parts of the country, are susceptible to a variety of structural problems caused by water infiltration or improper backfilling around foundation walls. This article explains where the trouble starts and suggests a number of ways to reinforce foundations that are showing signs of distress. Some fixes do not require extensive excavation.
When people ask me what kind of house foundation I prefer — poured concrete or concrete block — I tell them to take a look at the Yellow Pages under "Waterproofing Contractors." Here in southeast Wisconsin, where I work as a building inspector and engineer, such a search will turn up more than 50 companies specializing in repairing cracks and stopping water seepage in concrete-block foundations.
This is not to say that concrete-block foundations are always a bad idea. They can perform well with proper drainage and appropriate reinforcement, but these conditions are not always present. Gradually, time and the elements can undermine the health of a block foundation, even a well-built one, a fact I am reminded of when doing inspections for prospective home buyers. I constantly see wet basements, or foundation walls that have cracked, buckled, tipped and sometimes even collapsed.
Soil pressure works against the foundation
Most problems associated with concrete-block foundations can be traced to two related factors: improper drainage and the seasonal expansion and contraction of soil, which puts pressure on foundation walls.
Water seepage is the most common problem I see, but water-soaked soil around the foundation also imperils the structural integrity of the walls. When the ground freezes and thaws, pressure builds against the walls. Common failures are horizontal cracks along mortar joints where the wall has been forced in due to soil pressure. I usually find cracks like this between the third, fourth or fifth courses from the top in a typical ten- or 11-course wall, which corresponds to the frost line. Often accompanying these cracks are other signs of failure: vertical shear cracks in the corners, step cracks following the mortar joints and walls pushed off the mortar joint between the first and second courses of block. Unrestrained walls sometimes slide under the joists in response to soil pressure, tipping the wall out of plumb.
Water and soil cause other problems, too. Consolidation or settling of subsoil due to heavy rains, or a substantial loss of moisture in the soil, can undermine the foundation from below. This settlement may allow footings to drop, causing vertical and step cracks as well as tipped and cracked concrete floors. In some cases, this kind of settlement causes the walls to tip outward.
Look for problems outside the foundation
The first approach to fixing a wet basement is to correct the grades around the foundation so that water flows away from the walls. Make sure downspout drains, sump-pump discharge pipes and storm sewers convey roof and surface water away from the house. Low spots around the foundation are likely to collect water, so any depressions should be filled.
For more photos, drawings, and details, click the View PDF button below:
View PDF