How-To
Hollow-Wall Anchors
When you're installing a towel bar and solid blocking is just a rumor, this inexpensive hardware will do the trick.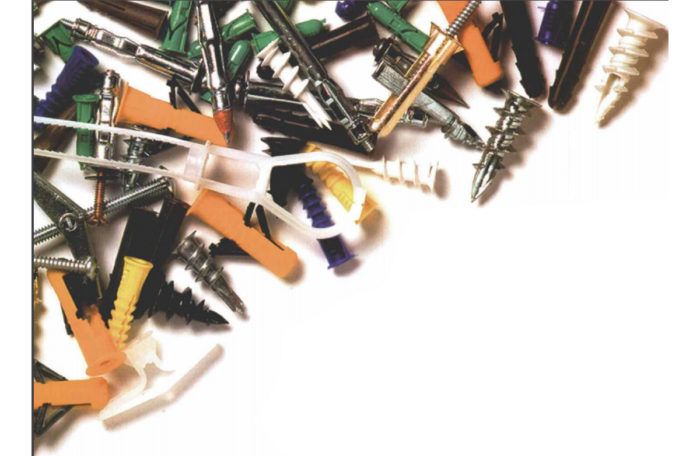 Synopsis: Hollow-wall anchors are used to hang mirrors, pictures, coat hooks, and the like in places where a nail or screw will not engage wood framing. This article shows how various kinds of anchors on the market work, lists pros and cons of each, and includes a list of manufacturers.
Let's cut the suspense. The best hollow-wall anchor is a 2x block that's nailed horizontally between two studs at the exact height you need it. There is nothing better.
The problem is that five years after you've installed drywall, you'll discover that you need blocking to support that 90-lb. picture frame whose true position on the wall, perfectly equidistant between framing members, has now been determined by your spouse, who obviously has telepathic links with a global positioning satellite. If you had only known.
When faced with a similar problem, professionals and do-it-yourselfers alike reach for the next best thing: hollow-wall anchors. However, there are scads of anchors out there, and although most cost less than 50¢, who wants to buy something that doesn't work? I've used my share of hollow-wall anchors, usually whatever was handy, and always wondered how well they really worked. To research this article, I tried out as many anchors as I could find, talked to their manufacturers and talked to the tradesmen who use them, all in a quest to find out which ones work best in drywall. What I learned is summed up in the reviews in this article.
How does a wall anchor work?
When you drive a nail through drywall into a 2×4, the friction between the nail and the wood holds the nail securely. Hollow-wall anchors depend on the tenacious grip of drywall to hold a fastener and are used almost exclusively with screws. Anchors work either by expanding inside the wall material or by flaring out behind the wall, creating a mechanical stop that prevents the fastener from being withdrawn. Plastic plugs and augers fall into the first category, and toggles and expansion anchors form the latter group. Wall anchors are designed to work in plywood, fiberglass, hollow bricks, and concrete block, but their most common application is in drywall.
Although most anchors should be used only to supplement existing blocking—one end of an 18-in. towel bar whose other end is securely screwed to a stud, for instance—an anchor's strength is an important issue. Manufacturers test their products' ability to hold weight in two ways: tensile (or pullout) strength, the ability to withstand a force pulling out in line with the fastener; and shear strength, the force pulling down on the anchor. (Shear strength is almost always greater than tensile strength.) The anchors are tested in different thicknesses of drywall, plywood, and hollow block; hydraulic force is applied until anchor or drywall gives out. (In almost all cases, the drywall fails first.) The manufacturers then assign each type of anchor a weight rating that's based on the failure point. For example, an auger-type anchor is rated for 70-lb. shear strength if it pulls out of the drywall with shear loads of more than 70 lb. For safety's sake, most manufacturers recommend that you apply only one-quarter of an anchor's ultimate load capacity. An anchor that's rated to resist 40 lb. of shear force, for instance, should be used to carry only 10 lb.
For more photos and details, click the View PDF button below:
View PDF