Design
A Timber-Frame/Modular Hybrid House
This economical house design features factory-built rooms that surround a post-and-beam core.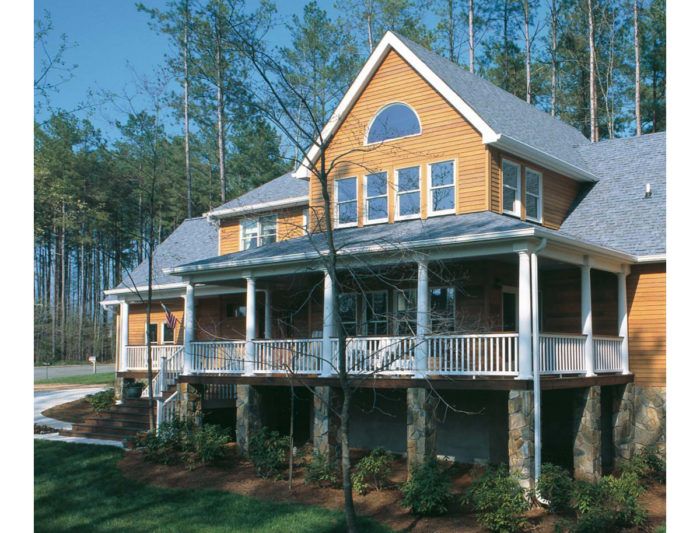 Synopsis: While the great room at the core of this home is timber-framed, the surrounding rooms — including bedrooms, bathrooms, the entry, and the kitchen — were all prefabricated and added to the core structure like building blocks. This article discusses the planning and construction process necessary to put all of the pieces together.
My husband and I like to think of ourselves as practical people who aren't afraid of a challenge. For years, we've dreamed about building a post-and-beam house for our retirement. We had always admired the tradition of timberframe construction and liked the bright, open spaces in the timber-frame homes we've seen. Lush post-and-beam catalogs whetted our appetites. We also wanted a house that was large enough to accommodate visiting children and grandchildren. However, because all the prices we were quoted for post-and-beam homes ran over $120 per sq. ft., we had to rethink our plans.
 Engineering a compromise
During our research of several companies, we met Kent Natirbov of Pre-Engineered Housing, a design and supply company. After we discussed our situation, Kent assured us that we could save money by incorporating a timber-frame center attached to factory-built modules. Frankly, the concept of prefab housing bothered us; like many people, I think we confused modular with mobile. A tour of Kent's preferred modular subcontractor, Nanticoke Homes Inc. of Greenwood, Delaware, changed our minds because their level of quality control was so impressive. Moreover, we could customize any part of the design as long as we didn't deviate from the width of the module.
Designing in concert with Kent, we planned a total of six modules for the entry, kitchen, powder room, laundry, master bedroom/bath, two upper bedrooms and baths plus study, all built around a timber-frame great room. We decided to use panelized construction for the garage only; we've found it's a faster method, especially when there's a crane already on site. A long, open front porch and screened-in back porch would be stick-built on site.
Careful planning is the rule
There is no turning back in the modular world. Modules arrive complete; everything from drywall, plumbing and wiring to switch plates, windows and doors is installed at the factory. There would be no way to change door openings or sink locations once the plans got to the factory floor.
Due to width limits on most U. S. roads, modules can be put together to make large rooms, but no individual "box" can be wider than 14 ft. For example, to design the 15-ft. by 20-ft. master bedroom, one module needed to be 13 ft. by 20 ft. That meant the facing bathroom and closet module would contain the extra 2 ft. of the bedroom's width.
For more photos, drawings, and details, click the View PDF button below:
View PDF