How-To
Building a Mantel
A frame-and-panel base topped with a broad shelf dresses up a plain fireplace.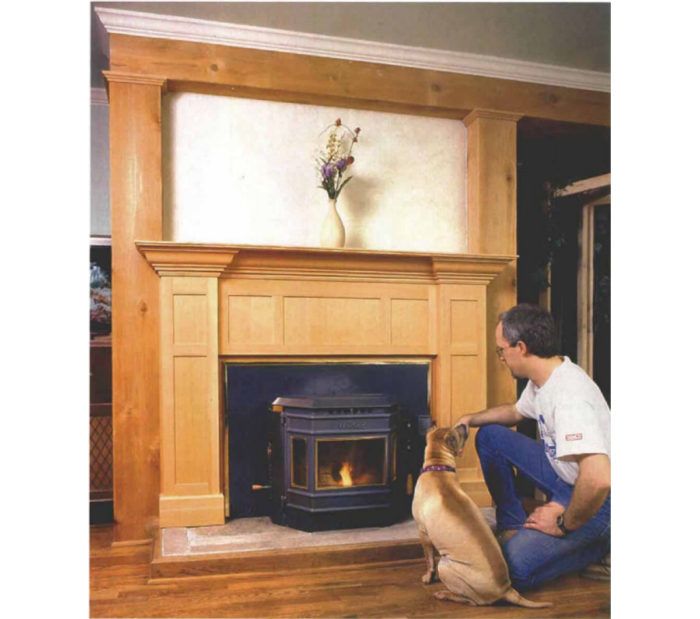 Synopsis: The author builds a Douglas-fir fireplace mantel in his shop and installs it in his own house. Flat plywood panels in solid wood frames require no complicated joinery, and the result is handsome without being fussy.
Whenever I see a skimpy mantel shelf all by itself at the top of a fireplace, I think of Hans Christian Andersen's classic tale, "The Emperor's New Clothes." The emperor, as you may remember, had been conned into thinking he had bought a handsome set of clothes when in fact all he got was embarrassed. When a builder trims out a fireplace with an undersize shelf and then calls it a mantel, I think it adds up to about the same thing.
Most fireplaces are in the living room or family room, parts of the house that typically get a lot of use. But many houses I see have only minimal millwork in these rooms, baseboard, and crown molding. Add a mantel, whether simple or elaborate in design, and the room becomes far more interesting. Many mantels (such as this one) can be built and installed in just a few days, so the investment is minimal when compared with the value it adds to a house.
A first step is deciding whether the mantel will be painted or stained. If it is to be painted, there are a number of stock moldings available that will simplify the project and lower the cost. When I make a paint-grade mantel, I usually use medium-density fiberboard (MDF) for the box, the part of the assembly that wraps around the fireplace opening and supports the mantel shelf. Moldings can be MDF, softwood, or a combination of both.
When you're considering a stain-grade mantel, remember that your selection of moldings will be reduced, and availability will depend on where you live. For example, the only stock stain-grade moldings that are readily available in my area are oak, hemlock, and possibly Philippine mahogany, none of which I really like. When I need something else, I have it milled by a local shop. The crown molding for this mantel was custom-milled.
In choosing materials for a fireplace mantel, I'm guided by what kinds of wood are used elsewhere in the house. This mantel is made from clear, vertical-grain Douglas fir, which has a simplicity and beauty that seems a good fit with its relatively rustic surroundings. Its simple frame-and-panel construction accentuates the charm of the wood. And it does a wonderful job of hiding a lot of really ugly brick.
I usually make one trip to the job site for all the dimensions I need, then go back to my shop and build the mantel. In addition to all the dimensions I need for construction, there are two things I always check carefully. One is the wall where the mantel will be fastened. To install a mantel, I run screws through the two vertical pilasters and into blocking I've attached to the wall. I make a note of what type of fasteners I'll need later for the blocking. In addition, I check the wall for plumb. If the wall weaves like a snake, I'll know to make a generous scribe allowance on the short returns of the pilasters where they intersect the wall.
For more photos and details, click the View PDF button below:
View PDF