Removing Glued-Down Carpet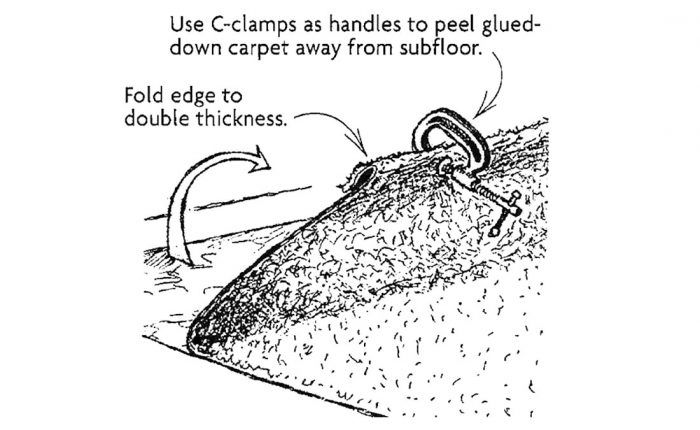 Our crew had to remove a large wall-to-wall carpet from a room that we were remodeling. The carpet was in pretty good condition, and as is often the case, one of us wanted to take it home for use in his basement.
The carpet was glued to the floor, and pulling it up involved a considerable amount of awkward prying and tugging. Even with gloves on, we had a hard time getting a grip on this carpet. If we were going to toss the carpet, it would have been easy just to cut it up into narrow strips with a utility knife. We had to find another approach.
I hunted around in my toolbox for something that might help, and I found three C-clamps — one for each of us. We folded the edge of the carpet to form a double layer and tightened the clamps onto the thickened edge. The clamps gave each of us a great handle on the situation. Pulling together, the carpet came up like a breeze; we didn't even break a sweat.
—Eric Roth, Minden, None
Edited and illustrated by Charles Miller
From Fine Homebuilding #141