A Deep Foundation for a Finished Basement
High ceilings are essential when designing comfortable basement living space in a new home.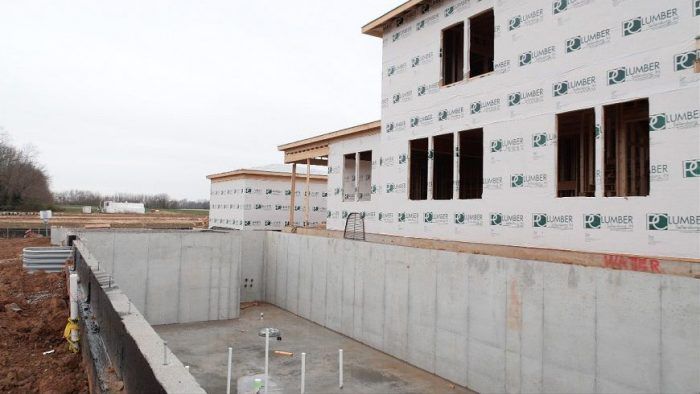 If you remember from my previous post, the lots here at Norton Commons are narrow. For this house, it's about 37 ft. wide. The setbacks are just 3 ft. from the property line, so we're essentially building to the lot line. That still gives us a relatively small building footprint. To maximize living space, we're including a finished basement. But I don't want it to feel like an afterthought that's dark, damp, and somewhat cavelike thanks to low ceilings made worse by HVAC and plumbing chases dropping the ceiling in the middle of the room.
A tall ceiling height is the first step we take to make the basement a comfortable space. The finished ceiling will be 9 ft. We need to provide egress from the basement and we plan that window location for maximum effect on the floor plan. There will be two rooms in the basement. The entertainment/theater room will be in the front portion, so we actually want to avoid too much light there. In the rear portion of the basement will be a bedroom and full bath; a second master suite. We put the large egress window in this room.
In the foundation pictures, you might notice the utility room bump-out has four sleeves running through the wall. These are for the two well loops of our ground-source heat pump. I'll talk about our "geothermal" system of heating and cooling in an upcoming post.