Painting Next to Carpet
A careful masking tape placement can help when painting near carpet.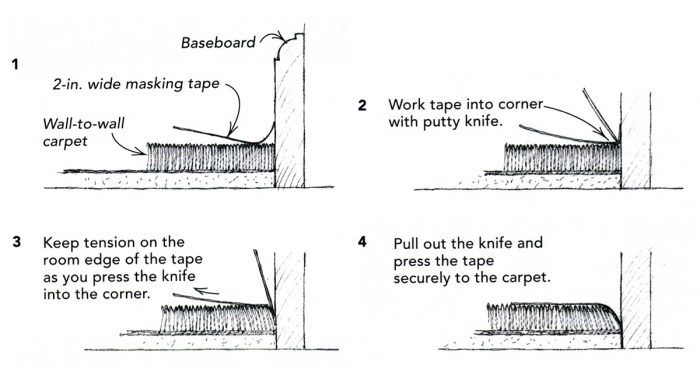 Painting baseboards next to carpets can be frustrating. Loose fibers at the edge of the carpet interfere with the brush, and any excess paint on either the baseboard or the carpet is hard to remove without making a mess. The drawing shows how I deal with the situation.
I use 2-in. wide masking tape to protect the carpet and to hold the carpet tufts away from the baseboard so that the paint can be applied below the top of the carpet line. For this purpose, Scotch-brand Long-Mask Masking Tape seems to work well. It has just the right amount of stickiness to adhere to the carpet, but does not stick strongly to the baseboard.
The tricky part is putting down the tape. First, I lay the tape so that it runs about 3/8 in. up the baseboard (figure 1). I take care not to press the tape against the baseboard because I don't want it to stick there. Next, I press the tape onto the carpet about 1 in. away from the baseboard, and I use a putty knife to work the folded side of the tape into the corner where the carpet and baseboard meet (figure 2). This makes the tape stick to all the tufts right up to the edge of the baseboard. Now when I tug the tape toward the middle of the room, the attached  carpet tufts are pulled away from the baseboard, and the baseboard side of the tape can be worked down (figure 3). This wraps the edge of the carpet and protects it from the paint that will be applied. Pulling the tape more from the room edge exposes more of the baseboard for painting, and then pressing the room edge of the tape to the top of the carpet attaches the tape so that the gap between the carpet and baseboard remains held open (figure 4). A final inspection reveals missed carpet tufts in the gap, which can be corrected with a second layer of tape, using the same technique.
—Al Lemke, Hopewell Junction, NY
Edited and illustrated by Charles Miller
From Fine Homebuilding #153