How to Keep Paint off a Carpet When Painting Baseboard
This simple tip for using painter's tape will get you clean results every time.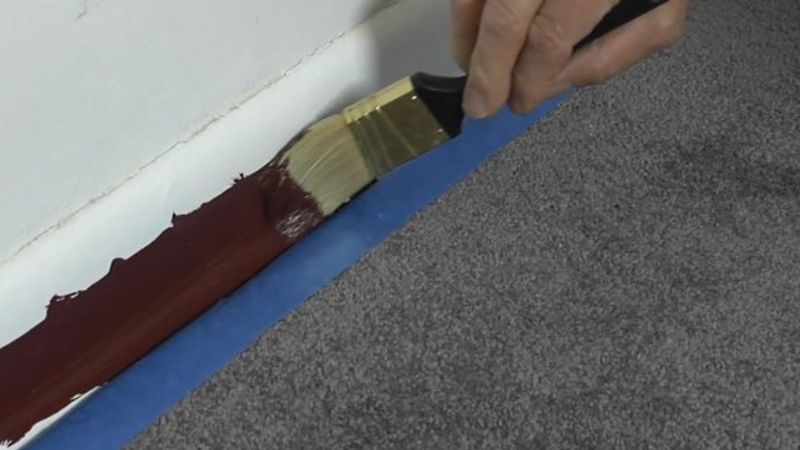 If you need to paint baseboard next to a wall-to-wall carpet, you could try to peel that carpet back as you brush along the edge of the molding and hope you don't get any paint on it, but there's a better way.
The trick is to use the right tool for the job
Al Lemke from Hopewell Junction, N.Y., has figured out a way to get masking tape between the baseboard and the carpet when he preps a room for painting. Here's how he does it. You want to use the sticky blue masking tape that's going to actually adhere the the carpet; you don't want to use a light-tack masking tape and run the risk of it pulling away. Leave about a 1/4-in. of tape running past the carpet that overlaps onto the baseboard. Now take a putty knife or 5-in-1 tool and start working at one end and push the tape down. What you're doing is just getting the tape tucked in between the edge of the carpet and the trim. You don't have to worry about getting it all the way down to the floor because the carpet's going to poof back up again and cover this intersection. Then you're ready for some paint.
Now that we've let it dry, we're going to pull this tape up and see what kind of edge we ended up with. Looks great. Great tip, Al. Thanks so much for sending that in.
More Painting Tips:
10 Tips to Paint Like a Pro – Products and advice for tackling the toughest parts of any painting job.
How to Clean Fuzz Off of a New Paint Roller – Painters tape is the key, but not in the way you're probably thinking.
Video Series: How to Paint a Room Like a Pro – Pro painter Jim Lacy shows you every step he takes to get the perfect finish.
Make a Painter's Tool Bucket – Customize a plastic pail to carry all the tools you need for the job.
Previous:
Finishing an Exterior Door, Ep. 1: Sanding and Prepping the Door
Next:
Easy-Peel Masking Tape