Design
A Visit to Frank Lloyd Wright's Fallingwater
Western Pennsylvania Conservancy teams up with an engineering firm to restore one of the greatest houses ever built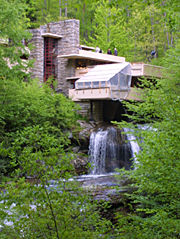 Ironically, one of the greatest houses ever built in this country has been falling down (or at least threatening to) since the day it was finished. Fallingwater, the weekend retreat that Frank Lloyd Wright designed for Edgar Kaufmann, perches on the edge of Bear Run, a mountain stream 72 miles southwest of Pittsburgh. Completed in 1938, the house is famous for its concrete terraces, which cantilever over a waterfall. Two of the terraces flank the living room, and a third, one story up, serves a pair of bedrooms. Despite the fact that the builders of Fallingwater put in twice as much reinforcing steel as Wright had specified, the cantilevered terraces all sagged, one more than 6 in., and threatened to collapse entirely.
In 1996, the Western Pennsylvania Conservancy (www.paconserve.org), which now owns Fallingwater, shored up the cantilevers with temporary posts, then hired an engineering firm to find a more elegant solution. The end result is one part of an $11-million restoration of the home and grounds that is currently underway. (In case you're curious, the original cost of the house was about $155,000, though Kaufman had said he didn't want to spend any more than $40,000.)

To support the cantilevers, the stone floors in the house were taken up and post-tensioning cables have been added below. Robert Silman, whose engineering firm is overseeing the project, wrote about the procedure in Scientific American (September 2000).
I got to tour Fallingwater last month courtesy of PPG Architectural Coatings (www.ppg.com), makers of Pittsburgh Paints and the only corporate sponsor of Fallingwater's restoration. PPG was launching a new line of Pittsburgh Paints' colors, inspired by Fallingwater. I wouldn't normally leave the office to learn about a new line of paints, but I jumped at the chance to spend a day wandering around Fallingwater. The marketing folks at PPG clearly had my number.
Kevin Ireton is editor-in-chief of Fine Homebuilding. Photos: Kevin Ireton