Design
Built Wrong From the Start
Top 10 blunders that rot your house, waste your money, and make you sick.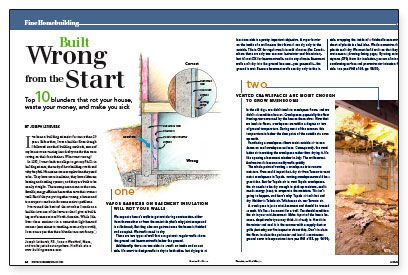 Synopsis: A builder with a Ph.D. in building science explains why even the best materials can ruin a house if installed improperly or implemented as part of a poor design. Complete with detailed pictures and illustrations, this list includes more than just simple tips; it highlights the causes and solutions of many common but overlooked problems. This author addresses problems related to basement insulation; vented crawlspaces; attic ducts and air handlers; frame rotting; pan flashing windows and doors; brick and stucco drainage; air-conditioning pathways; toxic gases; and gas space heaters and fireplaces.
I've been a building scientist for more than 20 years. Before that, I was a builder. Even though I followed standard building methods, some of my houses were turning into drafty wrecks that were rotting on their foundations. What went wrong? In 1983, I went back to college to get my Ph.D. in building science, the study of how buildings work and why they fail. Houses are more complex than they used to be. They have more insulation, they have elaborate heating and cooling systems, and they are built to be nearly airtight. These components can make comfortable, energy-efficient houses that serve their owners well. But if they're put together wrong, a house and its occupants can be in for some serious problems.
I've turned the basis of the mistakes I made as a builder into one of the lectures that I give at building conferences across North America. While I deliver these seminars in a somewhat lighthearted manner (sometimes to standing-room-only crowds), I can assure you that these blunders are not funny.
1. Vapor barriers on basement insulation will rot your walls
We expect a house's walls to get wet during construction, either from the weather or from the materials (that's why joint compound is called mud). But they also can get wet once the house is finished and occupied. Wet walls need to dry.
There are two types of wall that can get wet: regular walls above the ground and basement walls below the ground.
Additionally, there are two sides to a wall: an inside and an outside. It's smart to design walls to dry to both sides, but drying to at least one side is a pretty important objective. A vapor barrier on the inside of a wall means that the wall can dry only to the outside. This is OK for regular walls in cold climates (like Canada, where there are only two seasons: last winter and this winter), but it's not OK for basement walls, not in any climate. Basement walls can't dry into the ground because—you guessed it—the ground is wet. Because basement walls can dry only to the inside, wrapping the inside of a finished basement wall with a sheet of plastic is a bad idea. Wet basement walls wrapped in plastic can't dry. We must build walls so that they can dry during wet seasons. By using extruded polystyrene (XPS) foam for insulation, you can eliminate the inside-condensing surface and prevent water intrusion from the outside, too.
For more photos, drawings, and details, click the View PDF button below:
View PDF