An easier way to apply tar paper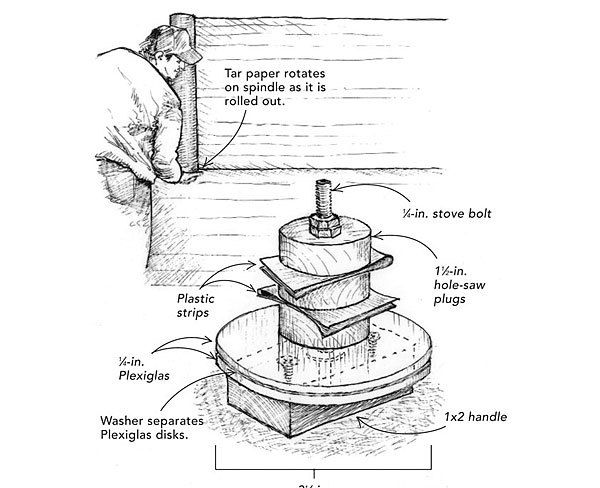 The drawing shows the spindle applicator I use when I hang tar paper. It consists of three 1-1/2-in.dia. plugs cut from 3/4-in. stock, a pair of 1/4-in. by 3-1/2 in.-dia. Plexiglas disks separated by a fender washer, a 1×2 handle, and a couple of strips of flexible plastic. The whole thing is held together by a 1/4-in. by 4-1/2 in. stove bolt double-nutted on top. A couple of short screws hold the 1×2 to the bottom piece of Plexiglas. The plastic strips are folded in half and trapped between the hole-saw plugs.
To use the rig, I staple the tar paper to its starting point, slip the applicator into the bottom of the roll, and walk along the wall, paying out the paper. The roll rotates on the Plexiglas disk, making it easier to control. When I stop for stapling, I let go of the applicator, which stays put because of the little plastic flaps stuck in the roll. And the minimal handle depth makes it easy to use at the base of a wall.
— Manuel P. Sanders, Las Vegas, NV
Edited and Illustrated by Charles Miller
From Fine Homebuilding #166