Design
A Rustic Design for a Rugged Climate
Tailored to emphasize the surrounding views, this open floor plan executed in durable materials is sheltered by insulating concrete walls.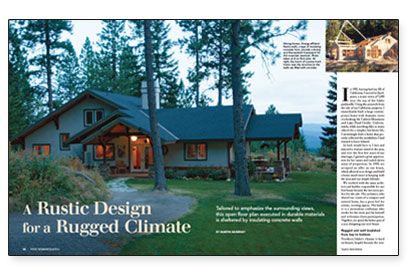 Synopsis: Thanks to a combination of durable and energy-efficient materials, mountaintop living has never been so comfortable. Solid construction materials include Rastra ICF (insulating concrete form) walls and a roof of structural insulated panels. For a durable interior, the owners chose slate floors, soapstone counters, and oiled fir flooring. The open floor plan offers gorgeous mountain views from all the major areas of the house, while a partially-finished second story provides the family with room to grow.
In 1992, having had my fill of California, I moved to Sandpoint, a scenic town of 5,000 near the top of the Idaho panhandle. Using the proceeds from the sale of my California property, I immediately built a large contemporary home with dramatic views overlooking the Cabinet Mountains and Lake Pend Oreille. Unfortunately, while searching (like so many others) for a simpler, less hectic life, I unwittingly built a home that precisely reflected the sensibilities I had wanted to leave behind.
As luck would have it, I met and married a woman raised in the area, and over the first few years of our marriage, I gained a great appreciation for her tastes and scaled-down sense of proportion. In 1998, we accepted an offer on our house, which allowed us to design and build a home much more in keeping with the area and our simple lifestyle.
We worked with the same architect and builder responsible for our first house because the two were perfect for the job. The architect, who shared our vision of a compact and natural home, has a great feel for artistic, inviting spaces. The builder is a meticulous craftsman who works for the most part by himself and welcomes client participation. Together, we spent the better part of a year designing our new house.
Rugged and well insulated from top to bottom
Northern Idaho's climate is hard on houses, largely because the winters are not cold enough. Often, winter days hover at 32°F, creating annoying freeze/thaw cycles that can result in moisture problems. Having dealt with these issues in our previous house, I wanted our new house to be a building that would live up to the challenge. We chose to build the exterior walls of the house using an insulating concrete form (ICF) system known as Rastra.
We liked the high insulation properties that Rastra offered and its impressive four-hour fire rating (important for a rural home in the woods). The rough surface of the blocks allowed us to apply the interior and exterior plaster finish without any mesh. The blocks also have ecological value; they are made mostly of recycled polystyrene foam that otherwise would have ended up in a landfill.
Of the various available sizes, we chose 12-in.-thick Rastra blocks because of their increased insulation values and the resulting deep windowsills.
For the roof, we opted for the sturdy construction of structural insulated panels (SIPs), which are made by sandwiching foam insulation between two sheets of OSB (oriented strand board). The 12-in.-thick SIPs were manufactured to our dimensions (thus reducing construction waste) by a local manufacturer, then shipped directly to our site. A crane lifted the panels into position so that crew members could screw them to the rafters.
For more photos, drawings, and details, click the View PDF button below:
View PDF