Best Deck for a Steel Roof
For a metal roof, install solid decking such as OSB or plywood.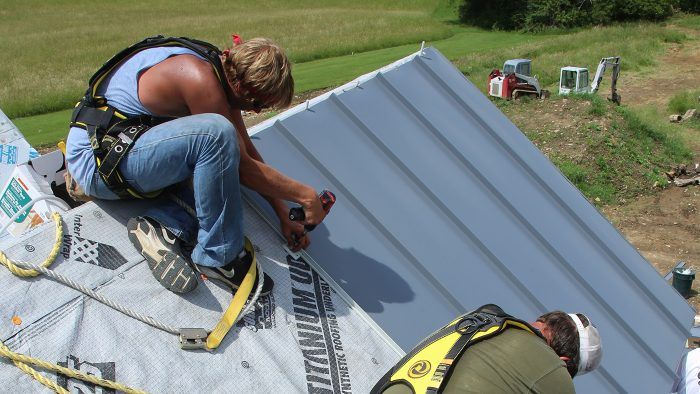 I'm in the process of building a 30×40, stick-framed, two-story shop. The roof will be made of engineered trusses installed 24 in. on center and have a 4:12 pitch. My question has to do with the roof decking. I'm going to install a ribbed steel roof but haven't decided whether to use hidden or exposed fasteners. To add strength and reduce the noise caused by the rain, I would like to install the steel over 7/16-in. OSB decking instead of purlins. However, I've been told that installing steel over OSB could cause oil-canning and might even void the warranty on the steel. Is this true? Also, what type of underlayment works best with steel?
—Curtis Eriksen, Eden Prairie, Minn.
Todd E. Miller, president of Isaiah Industries, replies: For both exposed-fastener panels and hidden-fastener standing-seam panels, I prefer installations over solid decking such as OSB or plywood. This is a best practice generally followed by industry leaders. Metal-roof installations over solid decking are easier to walk and generally more friendly to the roof installer. They also tend to be more wind resistant and less prone to condensation.
Metal roofs installed on purlins over smaller conditioned spaces are likely to develop condensation unless the structure is extremely well vented and includes a vapor barrier built into the ceiling and walls. Without a vapor barrier, warm moist air trying to drive out of the structure hits the cool back surface of the metal and condenses quickly. I have seen many disappointed homeowners and builders dealing with this situation.
As to your question about oil-canning—or ripples in the installed metal roof panels— this can develop when the substrate beneath the panels is not flat. It can happen with installations over both purlins and solid decking. The key is to have a flat surface for the metal panels to be installed over. Oil-canning can also be caused by improper fastening, and sometimes it can be integral to the metal panels themselves.
I am unaware of any metal roof products that would have their warranties voided for installation over solid decking, but always check with your manufacturer and follow their specifications as well as applicable local building codes. In fact, most manufacturers prefer, if not require, solid decking. Metal shingles, another option in the wide world of metal roofing, typically all require solid decking.
When it comes to underlayment, depending upon your location you may be required to have a peel-and-stick membrane around the building perimeter. Beyond that, though, most manufacturers are partial to the use of "premium grade" synthetic underlayments. The premium products can best be identified by a weight of 35 lb. or more per 1000-sq.-ft. roll. Most manufacturers of peel-and-stick advise against installing their products on the entire roof surface. Doing so will seal the structure up like a terrarium and substantially increase the need for good ventilation.
From Fine Homebuilding #315
---
RELATED STORIES
Previous:
How to Craft a Copper Roof
Next:
Guide to Low-Slope Roofing