How-To
Think You Can Identify This Tool? #5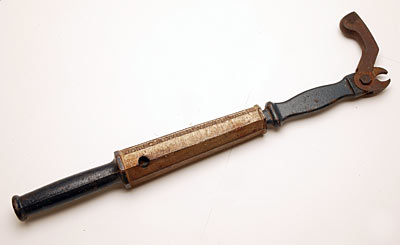 This month's mystery tool comes without clues. If you know its name, Email us your entry, with "Mystery Tool #5 – September" in the subject line. Along with your guess, please include your mailing address and your telephone number.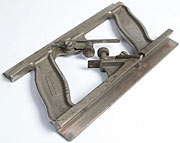 Last month's mystery tool attracted only 120 responses, which means either we're really stumping the audience or we're putting you to sleep. (If you want to weigh in with your opinion, send us an email!) As the majority of the respondents correctly guessed, the tool in question is a hand plane used for cutting tongues and grooves — one side for each task. Congratulations to Tom Cuccia of Pearl River, Louisiana. Tom wins a year's subscription (or extension) to Fine Homebuilding magazine.
Tools may be known by different names in various parts of the country, but there is a common, accepted name we're looking for. So even if you and your buddies call it this, but we're looking for that, the final decision is left to the editor. Sorry, those are the breaks.
To make the competition fair to those who receive this email at home and don't see it until the evening, all correct answers received in the first 24 hours will be put into a hat, and one winner will be drawn. Good luck!
CONTEST RULES
The winner will be chosen at random from all correct entries received in the first 24 hours. The correct answer and winner will be announced on the following eLetter's contest page. In the event there is no correct response, no prize will be awarded. The Taunton Press is not responsible for system breakdowns or lost emails.
This contest is open to legal residents of the 50 United States or the District of Columbia who are 18 years of age or older. Employees, officers, and directors of The Taunton Press, its subsidiaries, affiliated companies, dealers, advertising and promotion agencies, their respective employees, officers, directors and agents, and those associated with the development, distribution or implementation of this Contest, their immediate families (including parents, in-laws, siblings, children or spouse, regardless of where they live) and members of the same household, whether related or not, are not eligible to participate. VOID WHERE PROHIBITED. Winners agree to allow The Taunton Press to use their name in conjunction with this contest and subsequent promotion.
Prize:
The winner will receive a free year of Fine Homebuilding magazine. If the winner is a current subscriber, a year will be added to his/her subscription term. The prize is non-transferable, and no cash substitutions will be made. The total value of this prize is $37.95. All taxes are the responsibility of the prize winner.
Photos: Chuck Bickford