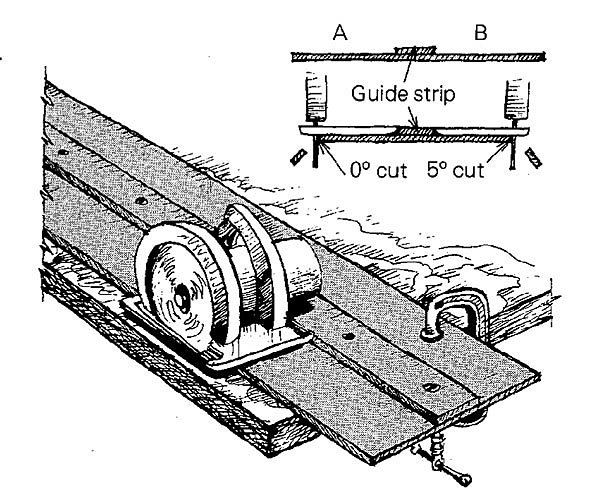 The hinge side of a door must be trimmed to width at 90°. The latch side is usually trimmed at 5° off vertical for a beveled edge. Making these long cuts straight and smooth is easy with this two-sided jig.
First, buy a fine-toothed blade for your circular saw. I prefer a carbide-tipped plywood blade. Mount it on the saw arbor, and then use a combination square to make sure that the saw's base is 90° to the blade.
Build the jig with 1/4-in. Masonite, 8 ft. long and about 12 in. wide. Accurately place a straight Masonite guide strip, 2 in. wide, down the middle, gluing and tacking it firmly into position. Leave dimensions A and B large at first. When the glue is dry, trim the sides with your saw — one side with the blade set at 0°, the other side with the blade set at 5°. Mark the respective sides clearly. When the jig is clamped to the work, the appropriate edge will register the line of cut. For smooth operation, apply furniture wax or car wax to the surfaces on which the saw's baseplate slides.
For crossgrain cuts, first run a knife along the cutline to sever the surface fibers of the wood. This will eliminate splintering, which can be a problem with veneered doors.
—Philip Zimmerman, Berkeley, CA
Edited and illustrated by Charles Miller
From Fine Homebuilding magazine