Mill Arched Trim with a Homemade Compass
Gary Striegler demonstrates his simple router jig for cutting arched trim, essentially a simple compass made from scratch.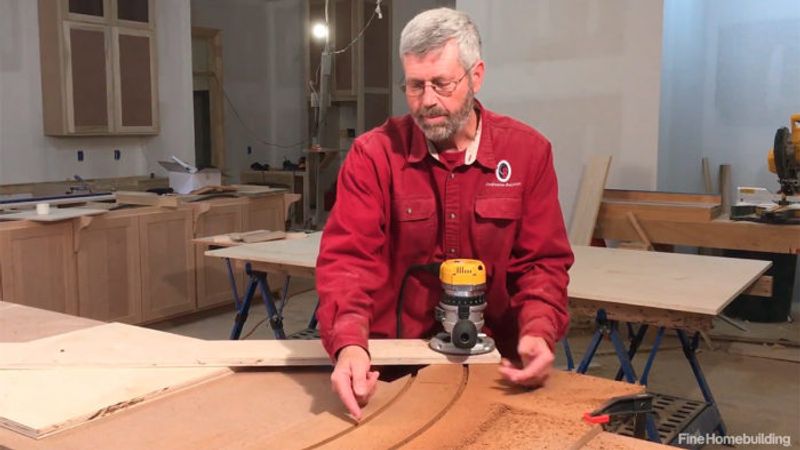 This might be the router jig I use the very most. It's one of the simplest, but boy does it help me out, because truthfully, I'm not that good with a router. All that I've done is attached a router with some screws right to a piece of plywood that's 6 in. wide. That's the width of the router base, which makes the setup really easy. Then I just measured from the router bit down the radius where I want to cut my piece of trim and put a screw in there. Now the only trick to using this is I just have to remember if I want to have a certain width piece of trim, I have to add the width of the piece of trim plus the width of that router bit that I'm going to be cutting when I move to cut the top radius. So I've got two holes here set to go. I guess if there's any other tricky thing, just remember to use the same pivot point both times. I'm just going to cut about halfway through, and instead of cutting a second pass all the rest of the way through, I'm just going to jigsaw close. I'll use a flush-trim router bit to clean it up.
So now I've made both cuts, and they're exactly parallel to each other—much more accurate than I could ever do with a jigsaw. All that I need to do now is run a jigsaw cut through here close to these two edges, and then I'll let the bearing of a flush-trim router bit ride on the edge and totally clean out the cut.
---
More Must-Have Router Jigs
Mill Arched Trim With a Homemade Compass
Read Gary's article "Job-Site Router Jigs" from issue #280.
Previous:
Make Complex S-Curves with This Flexible Template
Next:
Router Jig for Cutting Tapered Flutes