How-To
Shared Built-ins Save Space
Recessed cabinets between an existing bathroom and a new home office maximize space, in this excerpt from Making Room by Wendy Jordan.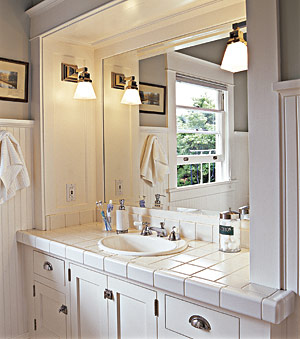 When the homeowner decided to convert a small first-floor bedroom to an office she wanted to add storage without giving up floor space. In the adjacent bathroom, a bulky vanity hogged space. Built-ins that share wall space between the two rooms solve both problems.
Part of the office cabinetry is the full 31-in. depth of what was a bed niche—deep enough for rolls of blueprints, a small television, and other large items. But the bookshelves and cabinets for general office supplies are only half as deep as the niche, leaving room to open the wall and build the bathroom vanity behind them in the remaining inches.
 The new vanity is lean, with a top that extends just a few inches beyond the niche, freeing up floor space in the bathroom. And it's long, making room for four cabinets and two drawers. A partition built between tub and toilet adds more storage in shallow shelves and provides privacy without blocking light from the window.
Floor Plan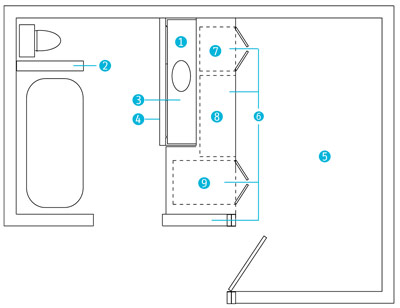 1. Bath Vanity
88 in. high,
64 in. wide total
(55-in.-wide opening),
15 in. deep
2. Partition
61 in. high, 38 in. wide,
5 in. deep
(shelves 4-1/4 in. deep)
3. Vanity top
34-1/2 in. high,
21 in. deep (including 6-in. extension beyond niche)
4. Vanity cabinets
18 in. deep
5. Office
6. Office built-ins
88 in. high, 104 in. wide
7. Shallow cabinets
15 in. deep, 22 in. wide
8. Shallow bookshelves and drawers
15 in. deep, 44 in. wide
9. Deep cabinets
31 in. deep, 22 in. wide
The office built-ins look neat when the cabinets are closed, but they're hardworking and well equipped on the inside. Adjustable shelves in the upper cabinet on the deep side store plans and assorted product samples. The television sits on a pullout shelf in the deep cabinet below; outlets and cables for the television and VCR occupy the cabinet, too. The shallow cabinets and drawers contain typical office supplies—paper, pens, scissors—plus outlets for the phone charger and electric pencil sharpener. 
 All told, the office ensemble boasts eight drawers, four cabinets, and a large bookcase. That's plenty for this home office, and it's equally appropriate for a bedroom, in case the room changes jobs again.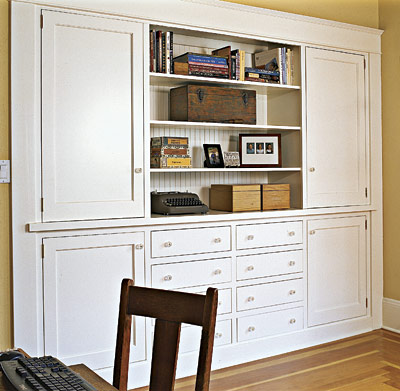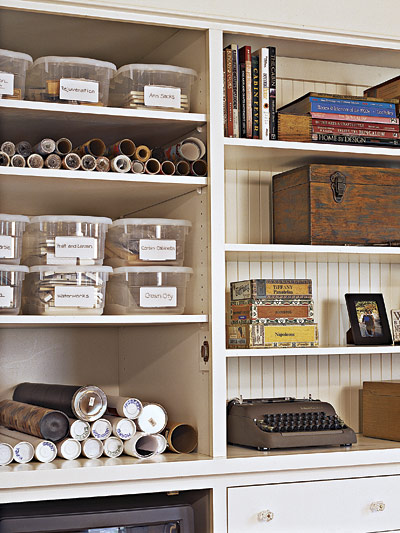 Wendy A. Jordan is the author of the bestselling Kidspace Idea Book and the New Kidspace Idea Book, and co-author of Great Kitchens and House Transformed. She is a senior contributing editor of Professional Remodeler magazine and writes a remodeling design column for housingzone.com. Photos by: Ken Gutmaker; drawings by: Melanie Powell