How-To
SIPs: Are They Right for Your Next Project?
Structural insulated panels make stronger homes that go up faster and reduce energy bills dramatically.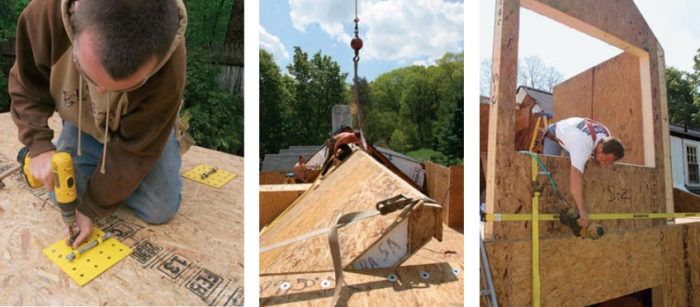 Synopsis: Structural insulated panels, or SIPs, are not a newly developed building technology, but they are getting a fresh look as builders and homeowners explore ways to build houses that are tight and help to conserve energy. Fine Homebuilding assistant editor John Ross takes a look at SIPs: how they are made, what they're made of, and how they are assembled quickly to make walls for a house. Contemporary SIPs are sandwich-like materials, with a pair of boards on each side of a foam core. Ross attended a weeklong program at SIP School in West Virginia to learn more about how SIPs work. This article includes sidebars on tools for working with SIPs and construction details for building with SIPs.
Magazine extra: Watch an insider's video tour to follow one panel from CAD through cut out.
The first time I used structural insulated panels (SIPs), I didn't even know what they were called. I was lead carpenter for a small school project, and one day, the general contractor said to me, "Change of plans. We're flying in the SIP roof next week." I never had heard of SIPs, or built with a roof system that had to be flown in.
"Hmmm. OK," I replied.
Without any more preparation than that, a crane truck arrived the next week, pulling a trailer loaded with 8-ft. by 24-ft. roof panels that looked like giant ice-cream sandwiches.
The crane operator worked for the SIP manufacturer and gave me a 15-minute installation primer. To me, it didn't matter what these panels were called; they were simply something else that needed to be put together.
SIPs are not new
Although they were new to me, SIPs were invented by the Forest Products Laboratory in the early 1930s. When Frank Lloyd Wright used them in his innovative Usonian houses during the post-World War II building boom, they were poised to revolutionize residential construction. But it didn't work out that way. Production stud framing became deeply entrenched as a preferred building method. Until recently, framing lumber, labor, and home-heating fuel have remained cheap enough that there hasn't been an incentive to change. Nonstructural stress-skin panels (one side is faced with wallboard instead of oriented strand board, or OSB) have been used widely in the timber-frame resurgence that began in the early 1980s, but SIPs never made big inroads into the general residential construction market.
Today, manufacturers such as Insulspan and Premier, longtime suppliers to the timber-framing market, are making a run at the broader residential market, only this time on the back of the climate crisis and the drive for more-efficient houses. According to the Structural Insulated Panel Association, SIPs posted 20%-plus growth in the residential market in 2005. However, the overall market share is less than 1%. Before SIPs can break into the mainstream, information about how to build with them has to lead the way. For the uninitiated, building with SIPs can seem like a big mystery not only about house systems like wiring and HVAC but also about siding, roofing, and basic structural connections.
Good carpentry skills make using SIPs easier
Six years after my first SIP encounter and now a Fine Homebuilding editor, I got the chance to see how the technology had changed and how complicated it would be to build a complete SIP house. To do this, I visited a job site where a crew was erecting a large SIP addition. Brian Grogan is lead installer for Panel Pros, a dealer/installer in the Boston area with 20 years of SIP-construction experience.
Grogan is quick to smile and resembles a large teddy bear. By the way the crew moves around him, though, I get the feeling that a grizzly might be lurking inside.
For more photos and information on SIPs, click the View PDF button below. 
View PDF