Design
Restoring Montpelier's Historic Framing
Another chance for Montpelier's wood beams to shine
Montpelier's original roof framing was altered extensively, including these 6×8 heart-pine principal rafters. A double sister brace was used to make this repair because an intersecting roof provided clearance above the rafters. In instances where altered beams ran tight against a roof or ceiling, we used various types of scarf joints instead of sistering.
This king post has had its diagonal bracing restored. The original braces were removed when the DuPonts made servants' quarters in the attic.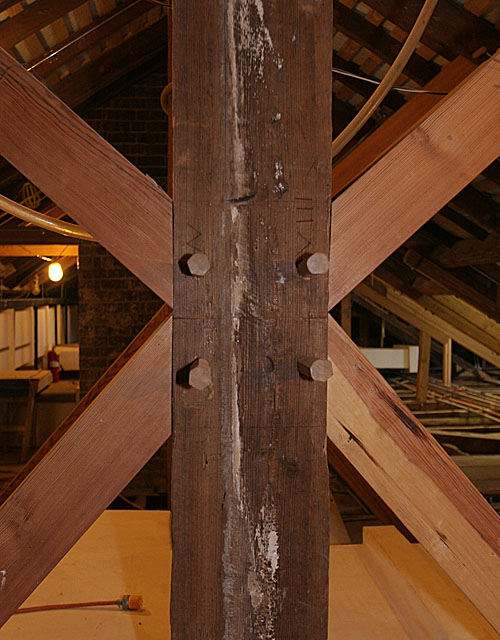 The foot of a replacement brace (foreground, photo below). At the toe of the brace is a new mortise, now filled, that we chopped in the adjoining 8×10 bottom chord. The new mortise gave us clearance for the brace's tenons when retrofitting the brace. Afterward, the mortise was filled with a pair of opposing wedge blocks to jam the brace tight. The original brace would have been installed when the truss was assembled, with no need for an extra mortise.
The foot of another principal rafter (background, photo below)  has been reinforced by a wedged iron strap. The original mortise-and-tenon joint had begun to fail as thrust from the rafter blew out end grain in the bottom chord below.
An inside view of the porch entablature, taken just before the installation of the interior frieze boards. One of the original mortise-and-tenon lookouts that framed the cornice is being placed inside the entablature as a time capsule for future historians. The lookouts were not reinstalled because the cornice design was modified to accommodate a built-in gutter.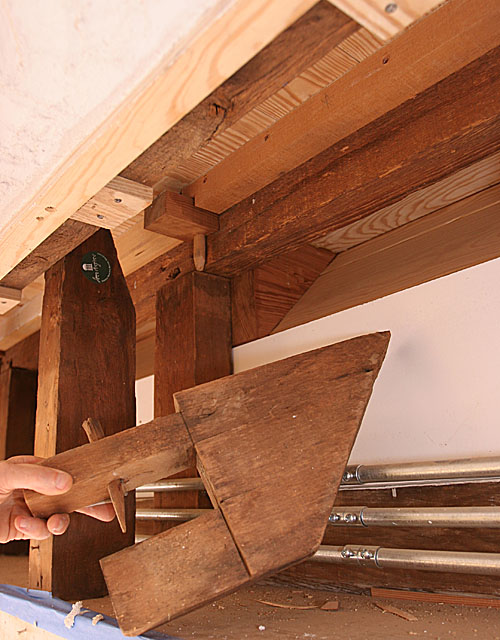 The lookouts have upper and lower tenons. The upper tenon passed through the entablature's  6×8 top plate, with a locust trunnel (pin) to lock it in place. The lower tenon engaged  a stud, with nothing more than gravity holding it there. The top edge of the lookout is pitched to shed water, and the leading edge carried a robust combination of hand-worked cornice moldings.
Reproduced elements were branded so that future historians can differentiate them from original fabric.
Read Beneath the Surface of Montpelier and view more photos to learn about Montpelier's restored brick exterior and lath interior walls and ceilings.
To read even more about Montpelier, visit James Madison's home is almost finished—again, from Fine Homebuilding Issue #192 (Dec 2007/Jan 2008), pp.20-22. And to learn about the techniques Scott McBride and his crew are using to restore the home's first-floor windows, read Modern techniques restore a historic house, from the same issue.
Photos by: Dan Morrison