How-To
A Custom Hinge Mortising Template
This time-saver helps turn slabs into ready-to-hang doors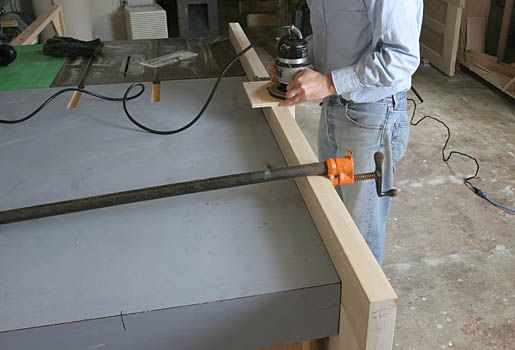 With only a router and a collet-guided bit, you can build a jig that allows you to mortise your own slab doors rapidly and repeatedly to accept any type of hinges. No matter what hinge you decide to use—I used an olive knuckles-type hinge for these doors—the technique for making the mortising jig is basically the same.
To make the jig, you will need to select a bit and guide. I like to use a 1/2-in. straight bit with a 5/8-in. outside-diameter guide. The difference between the two is 1/8 in., and if you draw two circles from the same centerpoint, you will see the 1/8-in. difference as 1/16 in. all around. To put this into practice, if you offset the outline of the hinge 1/16 in., you will have created the inside line of for jig.
After the template is cut, mount it to a block of hardwood for stability. These hinges require the same template inverted for the two different halves. The photos show a template made from plywood for butt hinges. Regardless of the hinge you choose, you will have to square off all corners with a chisel before use.
Expect to cut into the jig the first time you use it. This should be done slowly in several passes. Then, drop the bit until it exactly matches the thickness of the hinge. Once this is done, mark the center of the hinge on the cut portion. I cut this line with a knife, and fill the groove with graphite for visibility. I now have a usable jig. All I have to do is mark the centers of the hinges on the door, and transfer this measurement to the jamb.
To learn how Levine uses joinery and moldings to construct his doors, read Build Your Own Interior Doors from Fine Homebuilding Issue #192 (Dec 2007/Jan 2008), pp.54-55.
Photos by: Justin Fink