How-To
Build a Proper First-Aid Kit
When home-building accidents happen, off-the-shelf kits just don't cut it. Here's what you really need.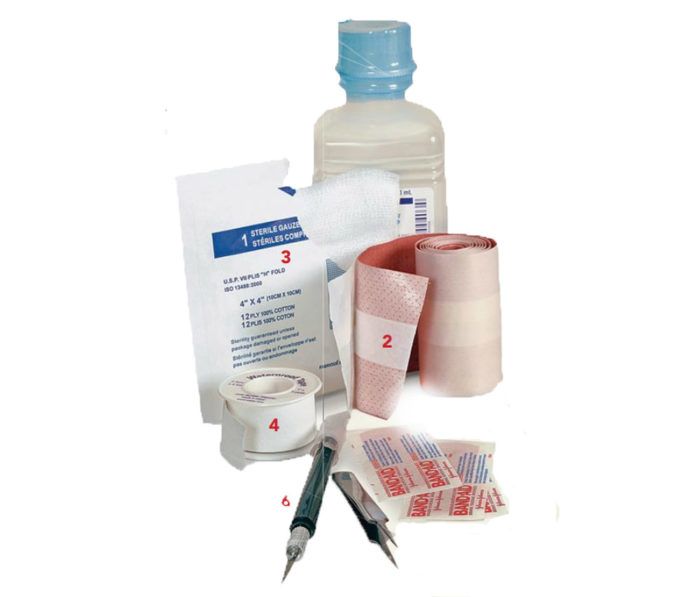 Synopsis: As a full-time ski patroller, carpenter T.H. Richards has gotten extensive first-aid training. That education led him to design a thorough job-site first-aid kit that goes beyond the usual bandages and gauze pads of "industrial" first-aid kits. Richards's inclusive job-site first-aid kit includes materials for minor cuts, scrapes, and splinters; eye care; sprains and broken bones; burns; arterial bleeding; impaled objects; and amputation. He also has safety gear: safety glasses and nitrile gloves. Richards also encourages carpenters to take a basic first-aid course to learn to use the tools in the first-aid kit.
Being prepared to deal with construction injuries is important and could well save your life or the life of a crew member. Every homebuilder should learn basic first aid, and a quality first-aid kit should always be on hand whether you work on houses for a living or just like working on your own home.
Unfortunately, most "industrial" first-aid kits are no better than the basic versions sold at the corner pharmacy. They simply contain more of the same items intended for minor traumas.
As a full-time patroller at the largest ski area in Eastern Canada, I've been extensively trained to deal with both minor accidents and traumatic injuries. As a carpenter, I know the consequences of working in a dangerous trade. Based on my experience and training over the years, I've assembled my own first-aid kit, which I keep with me whenever I'm working. Here's a look at what's inside.
Minor cuts, scrapes, and splinters
Small wounds and abrasions should be cleaned with plain soap and water, and should be covered with quality dressings.
Heavy-gauge fabric dressing strips with waterproof adhesive.
A roll of uncut adhesive fabric dressing, which can be cut to the exact shape and size needed.
4×4 gauze pads for wounds that are too large for adhesive dressings.
Cloth medical tape to hold non adhesive dressing pads on large wounds.
Needle-point tweezers to extract splinters.
A scalpel or an X-Acto knife with #11 blades to gain access to deep-seated splinters.
Sterile water for washing dirt out of wounds and for rinsing scalpel blades and tweezers after they've been sterilized with an open flame.
Safety Gear
Viruses and bacteria can be transmitted via bodily fluids during first-aid treatment. Use precautions no matter what the injury may be.
Clear safety glasses protect your eyes from spatters of blood or other bodily fluids.
Nitrile gloves protect your hands and the victim from fluid transmission.
Eye Care
Dust and small debris can be removed from an eye with care. If an object in the eye can't be found or is embedded, then both eyes must be patched before the victim is transported to the hospital.
Eyewash solution and an eye cup for rinsing small debris out of the eye.
Cotton-tipped swabs, which can be moistened with eyewash and be used to lift debris from the eye.
Adhesive eye patches to block light and to keep the victim's eyes from shifting and aggravating the injury.
3-oz. plastic cups for covering an object that has impaled an eye
Sprains and broken bones
To immobilize a broken bone or sprained joint properly, both the joint above and below it must be immobilized correctly
Muslin sandbags or pillow cases to fill with dirt, sand, or damp sawdust to immobilize a victim's head or to stabilize a major leg fracture.
Chemical cold packs to reduce inflammation and pain.
Washcloths or hand towels to prevent cold burn from chemical cold packs.
Moldable splints to stabilize a broken limb.
Flat twine or stretch-weave gauze bandages to secure splints or to hold cold packs in place.
Cloth triangular bandages to make arm slings or to strap large splints in place.
For more photos and details on the right first-aid kit, click the View PDF button below. 
View PDF