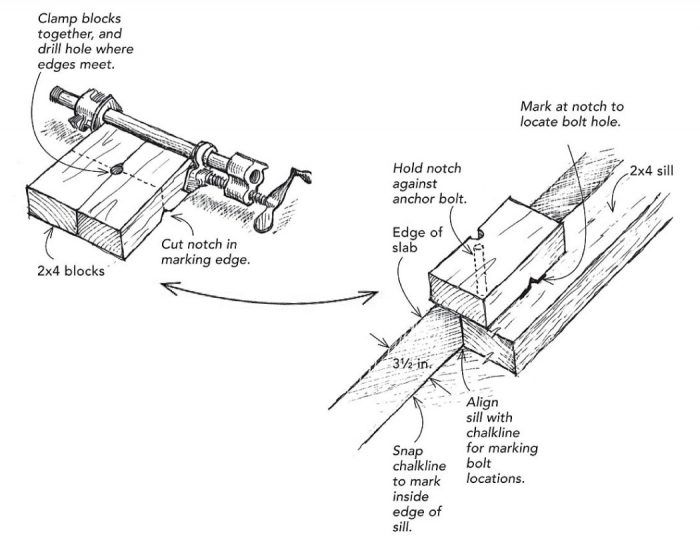 I was working solo, laying out sill plates for a Habitat for Humanity home with a slab-on-grade foundation. I had laid out the inside edge of the 2×4 sill plate by snapping a chalkline 31/2 in. from the edge of the slab. When it came time to mark the anchor-bolt locations in the sill, I hunted around for the Larry Haun-inspired bolt-hole marker that we typically use, but the marker was nowhere to be found. Fortunately, I found a way to make a marker from a scrap of 2×4 to do the same job.
As shown in the drawing, I clamped two 6-in. blocks of 2×4 together edge to edge. I used the bit for the anchor bolts to drill a hole at the center of the blocks where the edges came together. When I separated the blocks, each had a semicircular notch at the center of one edge. I drew a line from the center of the notch across the 3-1/2-in. face of the block and down the 1-1/2-in. edge, and carved a small notch for my pencil.
With the sill plate aligned with the chalkline, I placed the block over the sill plate with the notch bearing against each anchor bolt. Drawing a mark on the sill plate at the notch in the block gave me a bolt-hole centerpoint line exactly 3-1/2 in. from the centerline of the bolt. It worked like a charm.
Kenneth C. Kelley, Ridgecrest, CA
Edited and Illustrated by Charles Miller
From Fine Homebuilding #202