Tools & Materials
A Pair of Precision Protractors
The features and quality of these smaller protractors from Starrett match those of the 12-in. version.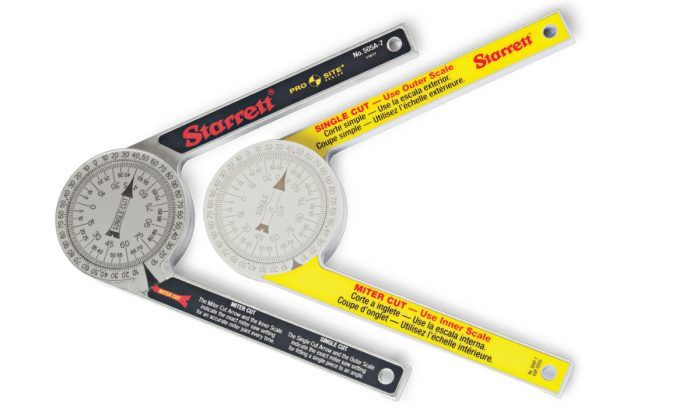 Starrett's 12-in. Pro-Site Protractor, with its innovative dual scale, was first reviewed in FHB #164 way back in 2004. Its laser-engraved scale and smooth operation make measuring angles a breeze, whether I need to find a single angle or to bisect an angle to cut miters. The one drawback with this tool has been using it in tight spaces, as each leg of the protractor is 2-1⁄2 in. by 12 in.
I recently tried out two versions of Starrett's smaller 7-in. Miter Protractor and found that the features and quality match those of their big brother. While the dual scale is the same 2-1⁄2-in. diameter, each leg of the smaller tools measures a mere 5⁄8 in. wide and has a length of 7-1⁄4 in., which makes measuring in close quarters much better. The aluminum option is a pricey $96, while the plastic model is more affordable at $24. Both tools employ the same dual scale, both pivot smoothly, and both retain the angle at which they're set. However, the low contrast of the scale on the plastic model may be difficult to read in low-light settings. If budget allows, spring for the ­aluminum model. If not, don't forget your work light.
– Rodney Diaz, creative director
Photo: Rodney Diaz
From Fine Homebuilding #315
---
RELATED STORIES