Crown Molding: Mitering vs. Coping. Which Do You Do?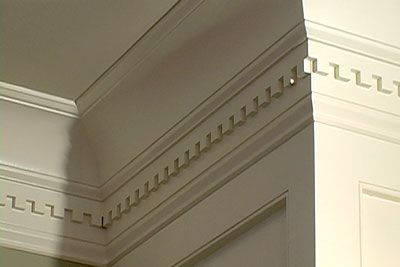 To say that I don't install a lot of crown molding is an understatement. In the past five years, I've probably put up less than 100 ft. of it. I just don't do a lot of trim carpentry. One thing I remember about my last crown molding project, though, was an exchange that took place between me and a buddy about the best way to make an inside corner.
As I was half way through a cope, my oh-so-patient co-worker called from across the room, "why didn't you just miter the thing?" My saw stopped and the only response I could come up with was, "you don't do that." The truth is that a lot of people―many of whom are better craftsmen than I'll ever be―make their inside corners by mitering. Some like to cope, some like to miter. I stuck with my coping method because I was told that coping keeps inside corners tighter, longer, and I believe it. But, who's to say I'm right?
I recently checked in with two trim carpenters, Chris Whalen and Tucker Windover-both of whom have written for FHB-to ask how they make their inside corners.
I'm sharing their responses with you in the hopes that you'll weigh in too.
Mitering vs. Coping
I Miter. . .
"As an old-school finish carpenter, I always used to cope the inside corners of crown molding; it was the only way the old guys would do it. 20 years ago a fellow I was working with told me it was a lot simpler to miter those corners. After all, that's what we do with crown on kitchen cabinets. I was skeptical, but tried it and found he was correct.
The miter joint is clean and simple and can be glued. It also allows the molding to be rotated up and down to close the joint. Usually I back cut each piece a degree or so to accommodate the corner being out of square due to taping compound build up. If this is not done the joint will tend to open up in the front.
As with most finish carpentry techniques, having a system for doing things is one of the most important ways to achieve effectiveness. I leave the end of the first piece of crown loose until I have the second one up and am ready to adjust and nail the first corner. This allows the corner to be rolled and tweaked until it fits. With paint-grade material a dab of caulk takes care of any slight issues with the inside corner. I don't use caulk as a way of cheating, but as a way of finishing off the joint."
-Chris Whalen
I Cope. . .
"I always say: if the miter fits, nail it. But generally speaking, I find the miter is harder to fit or it takes longer to get the joint tight. When I started working as a finish carpenter I scratched my head about the cope vs. miter question, but I realized that carpenters have coped moldings for many generations, and I suspected there was more to it than a blind following of tradition. There had to be a reason. That reason has not altogether been lost by the advent of the compound-miter saw and the Bosch miter angle finder. Let me explain.
Coping is a skill. Once learned, it is as quick and easy as tying your shoes. I teach my guys to cope an entire room of crown at once and then begin the process of marking and measuring and cutting. Tight mitered joints are exacting and fussy. They result in a joint that is at best sloppy, but probably unacceptable. Coped joints are relatively forgiving and built for speed. Making up a tight miter joint gets even fussier when we have to work with walls that are not straight or square. A coped joint can more easily float over those minor imperfections.
That being said, a mitered joint is something I will typically use on kitchen crown molding when I know all the corners are dead square. I also miter inside corners when preassembly and installation makes sense, typically when I'm working with smaller pieces around columns, a keystone on a header or a fireplace mantle."
-Tucker Windover
Learn more about Tucker's process by watching his video workshop: Installing Built-Up Crown Molding. Everyone can watch the introductory video for free and members can watch the entire series.