Who Do You Blame for Your Energy Lemon?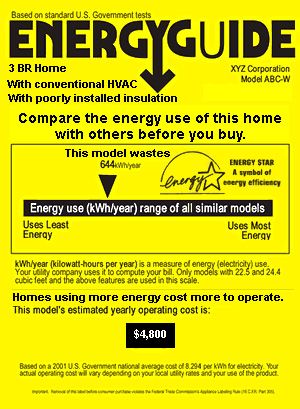 So I was talking to Tucker Windover, a carpenter who writes for this magazine, and he said that every new house should have a sticker on the front door, just like the ones they put on appliances, that tells you how much energy this model is going to save you. "This house is air-tight and insulated to R-45. It will cost an average of $XXX for heat, hot water and electricity." Here are a couple of reasons why I happen to think this is a great idea.
A month ago, I went to see an author who was trimming out a big new spec house in a suburb filled with big spec houses. I was surprised to see that they had stuffed fiberglass around the windows (instead of spray foam), so I asked about the rest of the house, which is on the market for somewhere between two and three million. According to the carpenter I spoke to, the builder didn't insulate beyond the bare minimum of R-19/R-30, didn't use rainscreen walls, and generally seemed to build as if it were still 1975.
A few days later, I happened to browse through Breaktime and noticed a thread that asked if Fine Homebuilding had "gone Green Crazy". A couple of the posters suggested that while it had its merits, "green" building was just a fad.
So what's the issue? Certainly the examples above aren't representative of all builders. But you know they're out there, probably more than we'd like to admit. When I see guys building houses like the spec house above, I wonder how many other builders are doing the same thing – putting up sub-standard housing for people who don't know better. Do they really think it's a fad? Is oil a fad, too?
But is it only the builders' fault? They only build what people will buy, right? Why doesn't the home-buying public demand a better house? How can they tell at a glance? They can't see through the walls, and if they could, they might not understand it anyway.
So let's make it easier for everyone. A big yellow sticker on the front door of a new house would force the builders to become competitive – they couldn't get away with building crap. Eventually, builders who ignored the energy crisis would end up like the last industry that ignored it – the auto industry. Except that this time, I hope the government doesn't bail them out.
For more information on energy efficient homebuilding, check out our roundup of more than 60 articles.