Estimating an Energy Efficiency Upgrade From Your Desktop Computer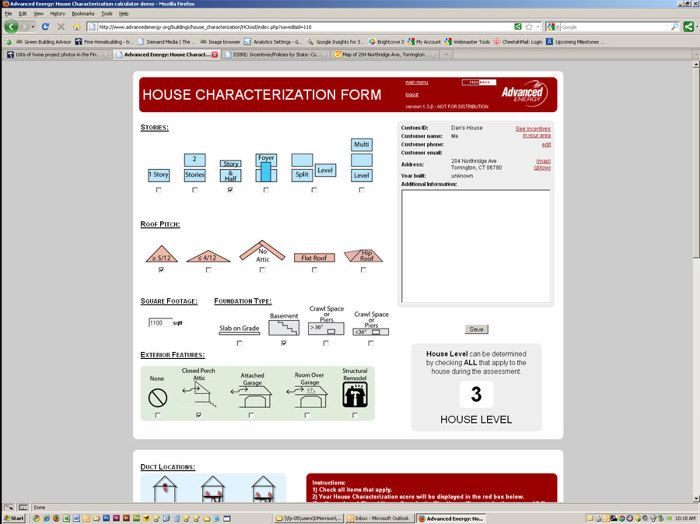 A session at NAHB's 2010 National Green Building Conference showcased a new web-based software can help you price out an energy retrofit from the comfort of your desktop
If you've been reading other blogs about this year's Green Building Conference, you know that the venue (the Raleigh Conference Center) is a LEED Gold building and that the entire Research Triangle area has pretty strong green cred. I attribute this to the high levels of scientific research being done at Duke, UNC and other nearby universities, and to the enlightened academic and research community that comes here from all over the world. Carrboro, where I usually stay (because of family connections), is one of the greenest communities I know about. Bus service is free, bicycles come close to outnumbering cars, and Saturday's farmer's market provides enough locally produced fruit, vegetables, meat and craft items to make any locavore swoon. The UNC campus is just a few miles away, and I read in the local newspaper (free, of course) that the university has pledged to be switch from coal to biofuels in its cogeneration plant within 10 years and be carbon neutral by 2050. Did I mention this area is REALLY green?
Oops. I forgot that you wanted to know more about what went on at the conference. For me, the highlight came near the end of John Tooley's presentation on "Assessing for Energy Leaks and Opportunities for Improvements." Tooley, who works for the Raleigh-based nonprofit Advanced Energy (www.advancedenergy.org), demonstrated how any house can (and should) be sketched out as a series of boxes, in order to identify common air leakage points where one box (like a basement) joins another (wood-framed first floor). Accompanying different "boxed" case studies were photos showing chases, soffits and other building envelope anomalies that need to be detected and corrected. But the real magic was in Advanced Energy's "house characterization" software – a program designed to assess the degree of difficulty for air sealing and insulation upgrades based on numerous house features. Tooley pointed out that for contractors who want to provide these energy performance upgrades, it's wise to look beyond basic square footage numbers to arrive at accurate job pricing. There are simply too many factors that can separate a straightforward air-sealing and insulating job from one that's way more challenging.
The software has a number of useful features, which I was able to try out after typing in an access code provided to seminar attendees. After entering the customer's name, address, contact information and job number, you can click on the map function (provided by Bing.com) to "bing" up different views of the house. If the customer has provided square footage and basic HVAC information, you'll be able to "box" the house as Tooley recommends, give the house a 1-5 rating in terms of insulation and air sealing difficulty, and accurately price the job –without leaving your office. Icons let you click on house type (split and multi-level houses are most difficult), foundations (shallow crawl spaces increase difficulty), roof type (watch out for hip roofs), roof pitch (shallower = tougher), exterior features (an attached garages or a porch with an enclosed ceiling, for example), duct locations and other details. The program assigns a 1-5 rating to the house, with 5 being most complicated. The final calculations tell you what the job should cost in labor based on what your crew needs to make per day. As Tooley explains, "You don't want to send a #2 crew to work on a #5 house; and you don't want to give an estimate that doesn't accurately reflect how difficult the job will be."
Advanced Energy's house characterization program is still being refined, but should be available soon, for very reasonable cost. It's much easier to achieve high energy efficiency in new construction than it is when doing retrofit work. The kind of nitty-gritty analysis that the folks at Advanced Energy are providing is exactly what's needed among the growing community of contractors who want to enter the energy-improvement market.
–Tim Snyder is the former executive editor at Fine Homebuilding. He is now Training & Resource Manager at Dr. Energy Saver (www.drenergysaver.com)