Get FREE hot water, AC, and dry air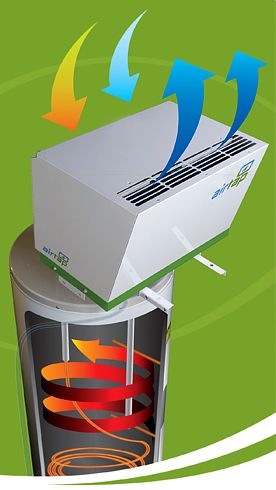 You want payback? Look into getting an AirTap water heater (www.airgenerate.com). It's an air-source heat pump unit that mounts on top of your existing water heater.

First, let me say that this is not an article, this is a blog. I haven't spent months researching the things that I'm about to share with you. But I did learn about AirTap at West Coast Green (www.westcoastgreen.com) a couple of years ago when I did a video for our Web site.

Why am I telling you about it? This gizmo got Alex Wilson's attention when it appeared at that show. That's a hard thing to do. The guy sees a lot of schlock that's so-called "energy efficient." But Alex gave this product the thumbs up. And more recently, one of our new contributors, Georg Efird, gave high praise to the AirTap, too. Georg owns A2Z Plumbing in Asheville, N.C. (http://www.eatsleepplumb.com/), which specializes in sustainable practices. So when he tells me something's energy-efficient and sustainable, I listen.

If you have an electric water heater, you can disconnect the heating elements because you won't need them. And if your water heater is gas-fired, you can shut off the gas supply. This module will heat water more efficiently than your old gas or electric water heater.

How does it work? A compressor in the unit extracts heat from the surrounding air and uses it to heat the water. The compressor runs on electricity, but according to the manufacturer's Web site, it only uses a very small amount of electricity. So technically speaking, the heat is free—in a manner of speaking.

Not only that, it will produce as much usable cool air as a small window-mounted AC unit. Once the unit extracts the heat from the air, it distributes cooled air, which can be ducted into a floor register. Because it's replacing warm air with cool air, it acts as a dehumidifier as well.