Tools & Materials
Fuego R3400 5-in. Fiber-Cement Saw Review
Ridgid built its R3400 Fuego 5-in. fiber cement saw for the task of cutting fiber-cement boards quickly and easily. It is well-balanced and makes straight accurate cuts and it features a unique dust-collection system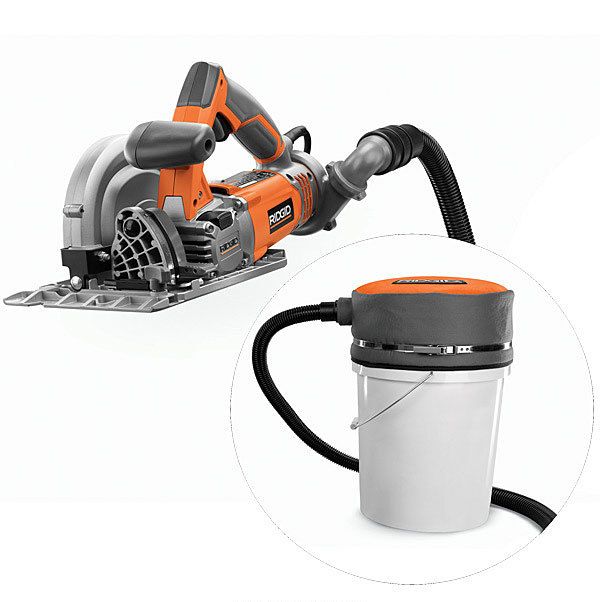 If you read only one sentence in this review, make it the next one: After using the Ridgid R3400, I'm giving away my two other fiber cement saws. Most fiber-cement saws look like modified sidewinders, but the R3400 was clearly built for the task. The differences are noticeable right out of the box.
This saw's inline motor and rear handle put the cutting force close to the right-side 5-in.-dia. blade, which makes straight cuts accurate. The saw weighs nearly 9 lb., about the same as a full-size sidewinder, but it's so well balanced that the heft goes unnoticed.
The dust-collection system is unique and probably the best part of the tool. The R3400 routes dust through a rear-mounted fan and out an adjustable port. The fan is powerful enough to drive dust through the 8-ft. hose and into a collection system, a 5-gal. pail and a filter cap that come with the saw. I didn't get scientific with it, but the setup seems to capture 95% of the dust.
They won't keep me from using it, but the saw has a couple of annoying aspects. First, the front handle can get in the way when clamping down the lever. The fan housing and rotating discharge port also leak a bit of dust. I sealed the leak with housewrap tape—not pretty, but effective. It also would be nice if the port could be turned an extra 15° to the rear to manage the hose direction better. Still, this saw is a keeper.