Breaking News: Senco unveils a nitrogen-powered cordless nailer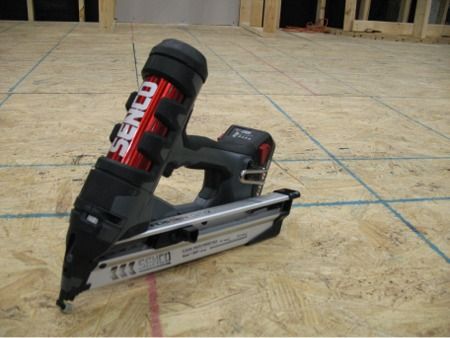 It's pretty safe to say that most tools that you and I think are revolutionary are well-known to industry competitors long before they hit the shelves in your local homecenter. It's a competitive tool market, afterall.
Well, I'm not sure how Senco managed to keep it so quiet during development, but they trotted out some new and impressive cordless nailer technology yesterday at the annual STAFDA show. I was shocked to find that the nail gurus at Bostitch had no idea it was even at the show, the folks at Hitachi hadn't heard of it yet, and the longstanding champs of hose-free nailer technology over at Paslode got their first peek by taking off their Paslode nametags and walking over to the Senco booth "under cover".
Completely sealed. No cartridges, no exhaust.
Gas-powered nailers are basically miniature combustion engines. Fuel from a cartridge is ignited by an electrically-powered spark, the nail fires, and the combustion exhaust is vented into your face (can you tell I'm not a fan of the smell?). Senco has changed the playing field by filling the tool with compressed nitrogen (130 psi), which is used to drive the firing pin, and is then recycled and used again (and again and again). No fuel cylinders to buy, no exhaust to smell. In fact, beyond the 18v battery, I'm not sure there is any maintenance to worry about with this nailer (so they say). I'm told by Senco reps that the nailer will eventually lose some internal pressure, but it's apparently not more than 5 psi over 100,000 shots.
So far Senco is showing off an 18 ga. and a 15 ga. nailer. Both have an eye-catching design, a comfortable, lightweight, and well-balanced feel, and will have a price tag of around $350-$400 when they are officially released in early 2010.
Fine Homebuilding will be among the first to get a hold of these new tools, and we will pass along our thoughts as soon as we have more to report. In the meantime, Senco gave me permission to share a photo to whet your whistle….
For more on gas-powered nailers, check out these features:
Tool Hound Blog: Are Hoseless Nailers Worth the Hassle?
Tool Review: Cordless Framing Nailers